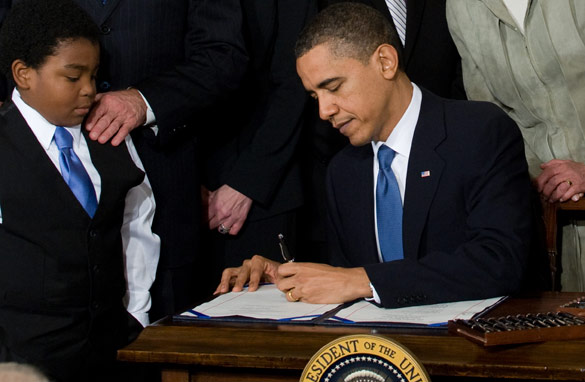 (FILE PHOTO) March 23, 2010: President Obama signed into law his historic health care insurance reform legislation, enacting the most sweeping social legislation in decades, ensuring coverage for almost all Americans. (PHOTO CREDIT: SAUL LOEB/AFP/GETTY IMAGES)
FROM CNN's Jack Cafferty:
Come January, President Obama's health care law will be on the chopping block.
The incoming Speaker of the House, John Boehner, says voters have given the GOP a mandate to cut government and roll back what he calls the health care "monstrosity."
Boehner says the American people are concerned about the government takeover of health care. He says Republicans want to repeal it and replace it with "common-sense reforms" that will bring down health care costs.
Throughout the campaign, Republicans blasted the president's signature issue of health care reform, with many promising to repeal it if the GOP won control of Congress.
For his part, Mr. Obama says it would be a "misreading" of the election results to think Americans want to spend the next two years trying to "re-litigate" health care reform and other major pieces of legislation.
The president called the process of passing the bill "an ugly mess" and something he regrets, but insists the outcome was a good one.
A new USA Today/Gallup Poll shows Republicans' top priority for the new Congress is repealing the health care law and cutting federal spending.
As for Democratic voters, they want Congress to pass a new stimulus bill to create jobs.
Meanwhile it's worth noting that even if Republicans make the repeal of health care reform a priority, it may not go anywhere.
While Republicans will control the House in the next Congress, the Democrats will still remain in control of the Senate.
What that means is likely - you guessed it - more gridlock.
Here's my question to you: Should Republicans try to repeal President Obama's health care law?
Interested to know which ones made it on air?
Sheila writes:
Absolutely not! It still needs work but it's a great beginning. We're already using the part that keeps our kids on until 26 since our college graduate hasn't been successful in finding employment with medical insurance. I'm very thankful for it.
Sylvia in California writes:
No. But, both sides need to come together to (1) read the law and (2) modify sections that add costs to businesses without adding value to patients or physicians.
Herman in Portland, Oregon writes:
Yes. The Republicans have researched, polled and listened to the American people. They are trying to undo the new health care law that was passed by the Congress in a partisan and divisive way. With simple changes to the health care industry, all Americans can have health care. I disagree with the mandate and hope it goes away.
Bob in Quebec writes:
Whatever. You know it's funny that every day for the last two years Republicans assailed the White House for focusing on health care instead of jobs, jobs, jobs. The only reason that health care should be number one is that they solved the unemployment crisis while I was asleep last night. Did they?
Gary in Woodhaven, Michigan writes:
What a mockery elections and politics are. It is near impossible to repeal the health care law, just as it is impossible to eliminate the debt without raising taxes. These people know this yet promise something else; we either accept living in denial or we accept the lies of politicians for comfort. Either way until we can live in the now, in the reality of our times, we will never move forward as a nation or as a people. How sad we've become.
Annie writes:
Why not? The bill is little more than welfare for big insurance with a few feel-good benefits thrown in. We need single-payer, not some half-baked, complicated scheme that was crafted to garner a few Republican votes and didn't.
D. in San Diego writes:
Better yet: Have the logos of the corporations they serve sewn onto their clothing. Like the yahoos from Nascar. Then you wouldn't waste time asking questions like this.