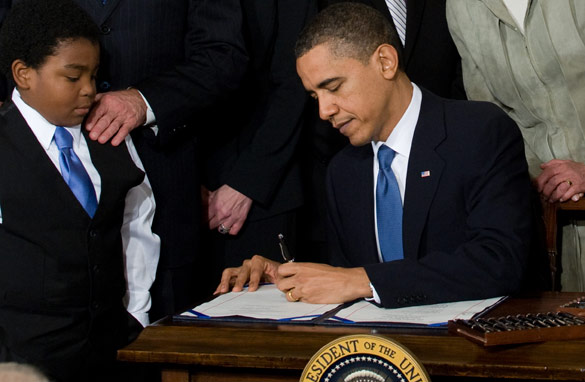 (FILE PHOTO) March 23, 2010: President Obama signed into law his historic health care insurance reform legislation, enacting the most sweeping social legislation in decades, ensuring coverage for almost all Americans. (PHOTO CREDIT: SAUL LOEB/AFP/GETTY IMAGES)
FROM CNN's Jack Cafferty:
Come January, President Obama's health care law will be on the chopping block.
The incoming Speaker of the House, John Boehner, says voters have given the GOP a mandate to cut government and roll back what he calls the health care "monstrosity."
Boehner says the American people are concerned about the government takeover of health care. He says Republicans want to repeal it and replace it with "common-sense reforms" that will bring down health care costs.
Throughout the campaign, Republicans blasted the president's signature issue of health care reform, with many promising to repeal it if the GOP won control of Congress.
For his part, Mr. Obama says it would be a "misreading" of the election results to think Americans want to spend the next two years trying to "re-litigate" health care reform and other major pieces of legislation.
The president called the process of passing the bill "an ugly mess" and something he regrets, but insists the outcome was a good one.
A new USA Today/Gallup Poll shows Republicans' top priority for the new Congress is repealing the health care law and cutting federal spending.
As for Democratic voters, they want Congress to pass a new stimulus bill to create jobs.
Meanwhile it's worth noting that even if Republicans make the repeal of health care reform a priority, it may not go anywhere.
While Republicans will control the House in the next Congress, the Democrats will still remain in control of the Senate.
What that means is likely - you guessed it - more gridlock.
Here's my question to you: Should Republicans try to repeal President Obama's health care law?
Interested to know which ones made it on air?