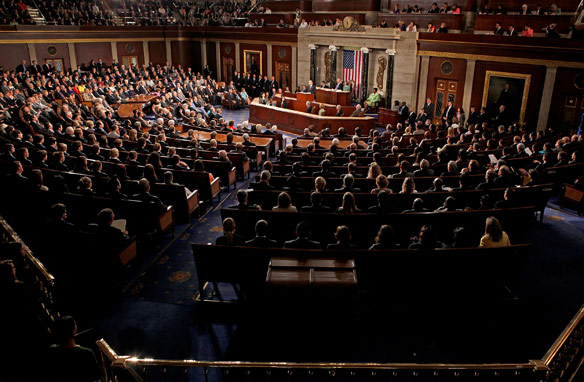 (PHOTO CREDIT: GETTY IMAGES)
FROM CNN's Jack Cafferty:
Despite the fact that the Democrats took a real beating yesterday, the Democratic-led Congress will soon be back in Washington for a lame-duck session. Heavy emphasis on the word, "lame."
Because this Congress allowed so much unfinished business to pile up before the elections, there'll be no shortage of things to do should they actually decide to tackle some of the people's business.
There are the Bush tax cuts, which are set to expire at the end of this year. If nothing is done, the biggest tax increase in American history will land on our doorsteps January 1.
There's the issue of expiring unemployment insurance for two million Americans.
And don't forget about the budget. Lawmakers need to either pass another temporary measure to keep the government funded - or pass the remaining spending bills for fiscal year 2011. The second won't happen, the first has to.
Other pending issues include the estate tax and the alternative minimum tax.
Don't hold your breath on any of this stuff. Congress will only be in session for a few weeks before the Christmas recess.
Plus, insiders say this lame-duck session could be more unpredictable than most since the balance of power is shifting. They say Republicans could spend at least a week figuring out who will take leadership roles in the next Congress.
More importantly, it's likely the Republicans won't be in the mood to do much cooperating, since they'll be running the show come January.
Here's my question to you: What should be the lame-duck session of Congress' first order of business?
Interested to know which ones made it on air?
Rich in Texas writes:
Tax cuts. As a small business owner who will be penalized for being successful, I will not be buying any new equipment or hiring any new employees until I know what the cost of growth is going to be. Most businesses are not the bad guys, nor are we greedy, but we do deserve to benefit for our hard work and risk if we are lucky enough to make a profit. Don't even get me started on health care.
Peter writes:
The lame-duck Congress should pass a major jobs bill, as they should have done two years ago. Monetary policy has shown its limitations with – what is it, three? – jobless recoveries in a row? We need some good hard demand stimulation to kick this economy into gear.
Ray writes:
What they should do is come back to D.C., cancel their holidays, and get to work just like anyone else scared of losing their job!
Gordon writes:
Let the Bush tax cuts expire and try to pass legislation which removes the income cap on Social Security deductions.
Melissa writes:
Welcome to being totally screwed. We all thought it was bad before, it's going to be much worse now. Nothing is going to get done for the next two years.
Arnold in Michigan writes:
Hold a joint session of Congress and resign.
Dennis in Pennsylvania writes:
Their first order of business should be to go to the supermarket and get some boxes and start packing. There is a reason they are going home and should start their journey as soon as possible!
Bev in Colorado writes:
Put on Munchkin costumes and wait for Sarah Palin and Christine O'Donnell to lead them through the corridors of the Capitol singing "Follow the Yellow Brick Road."