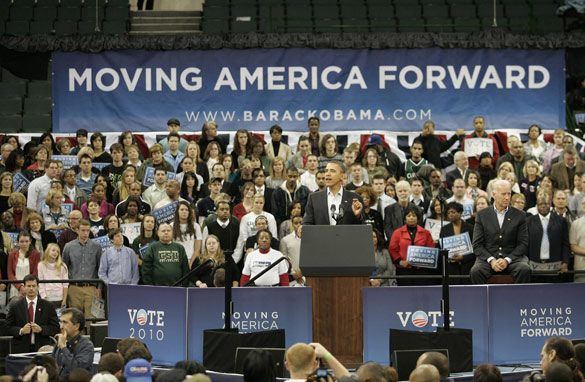 President Obama speaks to supporters while Vice President Biden looks on during the 'Moving America Forward' rally at Cleveland State University. (PHOTO CREDIT: GETTY IMAGES)
FROM CNN's Jack Cafferty:
What a difference two years makes.
In 2008, President Obama rode into the White House on a wave of broad voter enthusiasm, the likes of which hadn't been seen in this country in decades.
Fast forward two years, and the president's party is expected to get crushed in Tuesday's midterm elections. The latest USA Today/Gallup Poll shows the largest Republican margin in House voting in several generations.
And regardless of the turnout, it's looking more and more like Republicans will win more than the 39 seats needed to gain control of the House.
Experts in both parties keep revising their estimates upward. Many now believe the Democrats will lose more than 50 seats, and some are putting that number as high as 70.
Meanwhile, critics are heaping a lot of the blame on the president.
A piece in the London Telegraph suggests that by abandoning his own talk of bipartisanship, President Obama divided the country and set his party up for defeat.
The piece points out how Bill Clinton has held more than 100 events around the country while President Obama is mostly limiting himself to the friendly blue states. This is striking because Barack Obama rose to fame as a state senator by shooting down the notion of a red America and a blue America.
Many also feel the president didn't use his office to address the most pressing issue, the economy. Instead he focused on the "grand issues," such as health care.
And how's this for symbolism: . In Cleveland, Ohio, on Sunday, he spoke in an indoor arena that was nearly half-empty. And on the eve of the midterm elections, President Obama - the leader of the Democratic party - has no public events on his calendar.
Here's my question to you: If the Democrats get crushed tomorrow, how much blame does President Obama deserve?
Interested to know which ones made it on air?