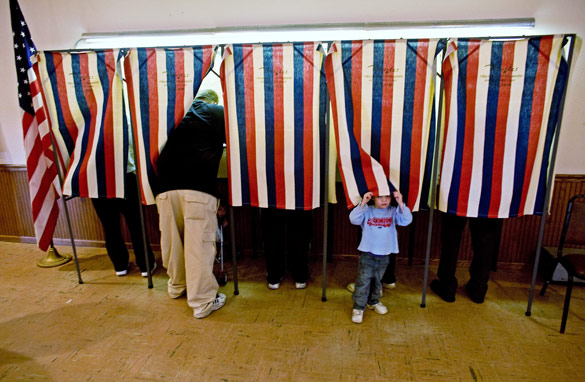 (PHOTO CREDIT: GETTY IMAGES)
FROM CNN's Jack Cafferty:
We should all know the drill by now:
If it's election time, then it's time for accusations of fraud and voting irregularities. And, with six days yet to go until the midterms, we cite the following:
In Nevada, there are reports in some counties that voting machines are automatically checking Harry Reid's name on the ballot.
It's worth pointing out that the voting machine technicians in one of these counties are members of the Service Employees International Union - a group that's planning to give tens of millions of dollars in this election, most of it to Democrats. Harry Reid is a democrat.
In North Carolina - a voter says he tried to vote a straight Republican ticket… but his choices showed up as Democrat. Four times.
In Illinois, it's the first election where any registered voter can cast their ballot by mail. But one official says that as many as hundreds of thousands of voters who are planning to get a ballot in the mail could be disenfranchised.
Also in Illinois, 36 counties missed the deadline to send ballots overseas - to members of the military and other voters.
In Pennsylvania, some residents along with a county Republican committee claim a Democratic congressman is trying to flood the voter registration office with fraudulent applications for absentee ballots.
And then there's Florida, without which no election drama would be complete. The Daytona Beach city commissioner and his campaign manager were just arrested and charged with committing absentee ballot fraud.
And the election is still almost a week away.
Here's my question to you: How much faith do you have that our elections are honest?
Interested to know which ones made it on air?
Margaret in South Carolina writes:
Jack, I want to believe our voting system is honest, but sometimes there is a nagging feeling that something fishy might go on from time to time. The whole "chad" routine in Florida seemed fishy, computers with no paper-trail voting seems risky, voting early options and re-counts seem fishy, too. Perhaps we should use a "dye-the-thumb-when-votes-are-cast" system!
Peg in New York writes:
My faith in an honest election ended in Florida with Bush vs. Gore.
Al in New Jersey writes:
Trust but verify applies to more here than missile control. With the shift toward new voting machines, greater use of absentee ballots, and the like, we may be missing new controls needed to verify accurate results. Elections can be inaccurate without being dishonest.
Renee in Illinois writes:
Remember the "voting irregularities" when Bush was elected? That was resolved by independent, impartial – oh, no wait – that was his brother. How fair the election is depends on how many people, organizations, etc. stand to benefit from voter fraud.
Mark writes:
About as much faith as I have that kids won't cheat on tests, husbands won't cheat on wives and athletes don't cheat using steroids. Get my drift?
Mick in Connecticut writes:
Not since the Supreme Court got involved in 2000 and again this year.
Craig in Florida writes:
You are asking me, a Florida resident, if I have confidence in our elected officials to put on an honest election? It took me quite awhile to stop laughing long enough to answer this question: no.