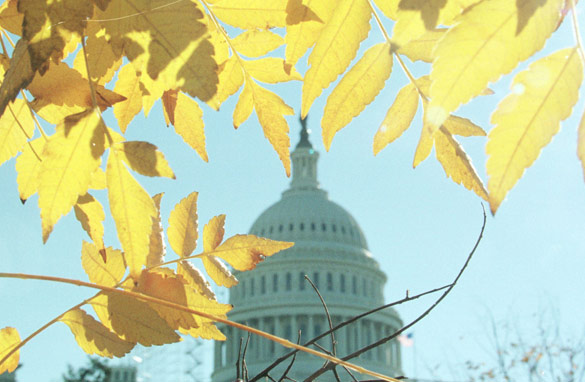 (PHOTO CREDIT: GETTY IMAGES)
FROM CNN's Jack Cafferty:
At a time when millions of Americans are disgusted with the federal government, a new poll shows low marks and negativity toward civil servants.
The Washington Post survey finds 52 percent of those polled say the 1.9 million federal workers are overpaid for what they do.
Seventy-five percent say federal workers are paid more and get better benefits than those working outside the government, according to the survey.
Thirty-six percent think they're less qualified than private-sector workers.
And half say that federal employees don't work as hard as those at private companies.
The poll also shows a deep divide along party lines when it comes to the views of the federal work force, with Republicans being more negative.
Republican candidates are latching onto this sentiment. On the campaign trail, they're using civil servants as examples of what's wrong with government - too big, too invasive and too much in debt. They vow to freeze pay raises and furlough federal workers if they win control of Congress.
Federal unions and Democrats describe criticism of "faceless bureaucrats" as scapegoating.
The government says it's hard to compare salaries in the private and public sectors because many jobs outside government are in low-paying industries while government workers are typically more skilled.
The good news for government workers is that of people who have interacted with a federal worker, the survey found. Three in four say the experience was a good one. Also, the survey shows younger Americans are more likely to give positive reviews.
Here's my question to you: Is Americans' negative view of federal workers justified?
Interested to know which ones made it on air?
Ron in Miami writes:
Jack, Federal workers are just people, trying to get through the day and get the paycheck at the end of the week. The fact is a lot of people are upset with the way things are going in their own lives and are blaming the government and the workers that the government employs.
David in Cleveland, Ohio writes:
I worked for the U.S. Postal Service years ago, and I found the level of effort appalling then. I have not seen it get much better. Outsourcing many government jobs to private companies that have to bid for the work on a competitive basis will help significantly keep levels of service high and move us away from the tenure nature of government employees.
Sara in Reston, Virginia writes:
My husband is a highly-skilled, dedicated federal employee working 12-hour days on a regular basis, and severely underpaid compared to his private sector counterparts. But he believes in public service, having served 20 years in the military before this job. I'm sure you can imagine how it makes me feel to see Republicans heaping scorn on federal workers.
Matthew writes:
The life of a federal worker in no way compares to that of a worker in the private sector. I grew up in the D.C. area and saw firsthand how different things were for them... With private sector wages now stagnated, the federal workers enjoy all the bells and whistles an over-bureaucratized government has to offer while those less fortunate have to duke it out on their own.
Russ in Pennsylvania writes:
Of course. All public unions should be disbanded and their jobs privatized. Look at Europe: How long will it take for people to realize that the special benefits and pensions are not capable of being supported by a declining middle class? Government has declared war on the middle class.
N. writes:
Hard to tell. They're not asked to do more with less, as in the private sector. Also, they've basically got tenure, so they're not generally in jeopardy of termination. Let's find out by cutting 10% of them, tomorrow.