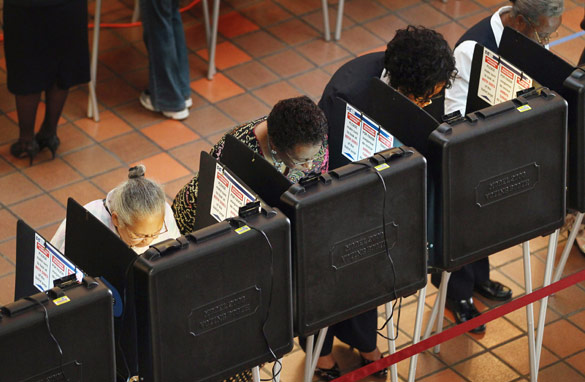 People cast their votes at a polling station set up at the Miami-Dade Government Center. Florida residents headed to the polls to cast votes on the first day of early voting in the midterm elections. (PHOTO CREDIT: GETTY IMAGES)
FROM CNN's Jack Cafferty:
Political campaigns are a brutal sport - but this season's attack ads seem to be nastier than ever.
Politico reports that while candidates have always attacked each other, distorted their opponents' records and taken their statements out of context... this year's "napalm-flavored" attack ads take it to a whole new level.
Some of this year's ads suggest that the politicians running for office aren't just untrustworthy or inexperienced, they are cruel and sick individuals.
For example: Campaign ads accuse candidates of wanting to gas shelter animals, of wanting to inject young girls with dangerous drugs, of letting men beat their wives... and of helping child molesters - either by buying them Viagra or protecting their privacy.
A lot of these ads are coming from incumbents who are worried that they're on their way out in November. They seem to think that by turning their challengers into monsters, they have a chance of winning.
One of the most notorious ads of the campaign season is by a Florida Democrat who calls his challenger "Taliban Dan."
While some of these over-the-top attack ads contain some level of truth, experts suggest that at a certain point they become counterproductive. They say voters tend to believe the worst about politicians, but when attacks become too outrageous, they stop buying it.
Meanwhile, the people running these ads want to be - or already are - our leaders in Washington. And it says a lot about the kind of people representing us that they're willing to resort to such a low level of rhetoric in order to win.
Here's my question to you: How much do attack ads damage our faith in our leaders?
Interested to know which ones made it on air?
Conor in Chicago writes:
This is nothing new in American politics. Andrew Jackson's opponents called his mother a whore in a popular newspaper of the time. She, of course, was not a whore. But, people ate it up then just as they do now. I still think it says more about our citizens than our politicians. I mean, if this method is tried and true do you really fault the politicians?
Dan in Virginia writes:
The sad thing is that in general, attack ads work. A lot of elections are decided by who can scare the most voters. I wish more people would lose their misguided faith in their elected officials. Maybe then we'd stop voting in the same two sets of idiots under the short-term-memory-induced delusion that if one group is screwing up the other group will surely save us.
David in Tampa writes:
Jack, I haven't had any faith in, trust in, or respect for this country's leadership for four decades. As our parties become more polarized by the extremists from within, I see who is running the dirtiest campaign and campaign ads and vote against them.
Jim writes:
Aren't you glad we live in a Christian nation? Just think how bad these attacks would be if our leaders weren't believers in the teachings of Jesus Christ.
Dianne writes:
The crassness, rudeness and downright mean-spirited nature of this campaign points to a lack of integrity and dignity long lost, I fear, among our leaders. I wonder to what extent all this is influenced by the likes of Limbaugh and Beck whose inflammatory words infiltrate the air waves daily. I worry about our culture when those in leadership lack the courage to be civil.
Dennis in North Carolina writes:
They can only affect you if you listen to them. If you want to learn about people running for office, read a newspaper or use the computer or go to the library for the truth.
June writes:
Well, Jack, your question assumes we have some faith in our "leaders" to begin with. A false premise for sure. You can't lose what you don't have.