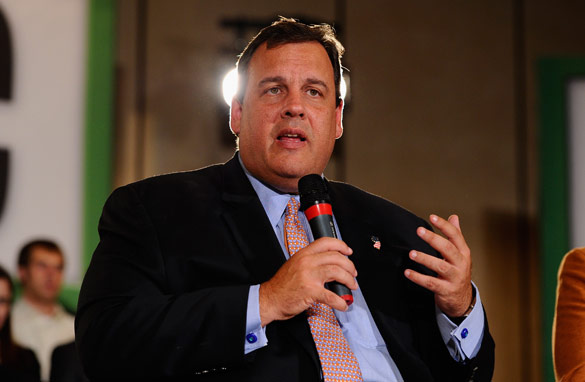 Gov. Chris Christie of New Jersey is pictured at a campaign event for California Republican Party gubernatorial candidate Meg Whitman last month. (PHOTO CREDIT: GETTY IMAGES)
FROM CNN's Jack Cafferty:
We're talking rare here - like monsoons in the Sahara Desert, one-eyed snakes, Blitzer beardless.
We're talking about a politician who gets elected by telling the voters one thing ... and then, when he gets into office, doing that exact same thing. This almost never happens.
And in the process, New Jersey's Republican Gov. Chris Christie is putting the lie to the traditional idea that political success must be accompanied by squandering the taxpayers' money on all manner of foolishness and extravagance.
In fact, this guy is now being talked about more and more as possible presidential material.
Christie was elected governor of New Jersey with marching orders to stop spending money. And lo and behold, that's what he's doing.
For example, just last week, he pulled the plug on the largest public transit project in the country, a commuter tunnel running under the Hudson River into Manhattan. Christie said New Jersey couldn't afford its share of the cost overruns. Imagine that.
Christie has also taken on the teachers' and public workers' unions and their expensive contracts. And he's dramatically slashed spending, including for education and aid to towns and cities.
In all, Christie closed a more than $2 billion budget deficit last year and an $11 billion budget deficit this year.
Of course, it's totally ruffling the feathers of the status quo, the "you scratch my back with the taxpayers' back scratcher" crowd, who is used to their politicians handing over the public's money in exchange for their support. And that's just a wonderful thing.
Imagine what a guy like this could do in Washington, where Nancy Pelosi and Harry Reid can't even be bothered to get a budget passed, let alone exercise any fiscal restraint. The possibilities seem breathtaking.
Of course, it will be a little tough to convert to socialism if the government money well dries up. But then, that's the point, isn't it?
Here's my question to you: Would you support New Jersey Governor Chris Christie if he ran for president?
Interested to know which ones made it on air?