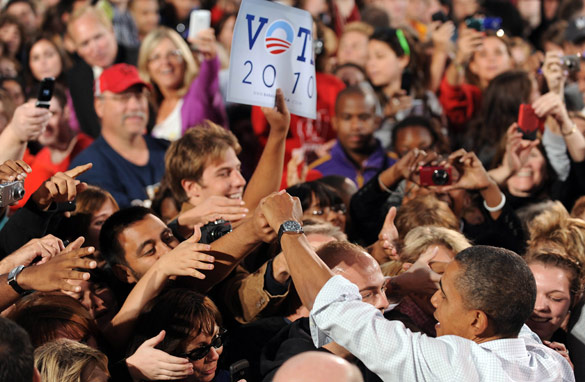 President Obama shakes hands after addressing a rally last week at the University of Wisconsin in Madison. (PHOTO CREDIT: GETTY IMAGES)
FROM CNN's Jack Cafferty:
President Obama continues to have problems when it comes to race.
White independent voters helped make Barack Obama the first African-American president in history, but now a lot of them apparently don't like him so much anymore.
A CNN poll taken shortly after President Obama was inaugurated in April 2009 showed a 61 percent approval rating among whites. That same poll now shows the president with a 34 percent rating among whites. Meanwhile, more than 90 percent of blacks approve of the job the president is doing.
And there are more signs of trouble when it comes to support from white voters - not just for the president but for the Democrats in general.
Another new poll shows working-class whites are flocking to the Republican Party, which will make it even tougher for the Democrats to keep control of Congress.
The Associated Press-GFK poll shows whites without college degrees prefer Republican candidates by 22 percentage points. That's double the margin of the past two elections.
Compare that with white people with college degrees, who are split evenly between the two parties; and minorities, who heavily back the Democrats.
Working-class whites are a key voting bloc - they make up about four in 10 voters nationally, and the Democrats can't afford to lose more of them. A lot of these voters were never too fond of Barack Obama to begin with. Remember Obama's comments about bitter small-town voters who cling to their guns and religion?
The silver lining for Democrats here is almost 30 percent of working-class whites in this poll say they may still switch candidates. If they don't, the Democrats could see a tsunami.
Here's my question to you: Why have so many whites turned against President Obama and the Democrats?
Interested to know which ones made it on air?
Jack in Niceville, Florida writes:
A better question is: Why haven't blacks turned against him? Why do more than 90% of them still support a president who has been a miserable failure in every sense of the word? There is racism at work here, but it's not just coming from white people.
Mark writes:
Jack, I'm surprised at you. If this isn't a RACIST question, then I've never seen one! I know many people of COLOR who are just as disgusted with Obama and his policies as "Whites".
Gary in Arizona writes:
Obama creates too many questions without straightforward answers. His smooth talk about change during the campaign has not materialized and, in fact, he is now perceived as talking down to America's white working class. The small-town folks sticking with their guns and religion being a case in point. His big government, big spending, and an incredible national debt have caused second thoughts among the white middle class who work hard and pay their bills. There's a genuine disconnect.
Tom in Ft. Lauderdale, Florida writes:
Jack, I won't support Obama again. And I don't regret my vote for him. I think we need a box for "None of the Above." When "None of the Above" receives the most votes, all candidates are rejected and may not run again. A new primary is held to vet new candidates.
John in Vermont writes:
It's the economy and the unremarkable health care bill which will penalize most people.
Ron in Georgia writes:
I have been a Democrat for almost 40 years. I voted for Obama. I hesitate to vote for him again. It's not about color, I wouldn't care if he was as Irish as the Blarney Stone. It's about two things: competence and courage. Sadly, this administration lacks the competence to make government work. Tragically, it lacks the courage to pursue the policies that would put Americans back to work.
Rafael writes:
I've been saying for months that the opposition to Obama is racial. The Klu Klux Klan never went away, it just went inside and waited for the Tea Party.