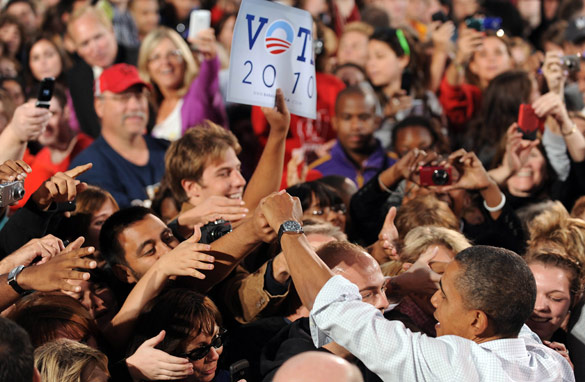 President Obama shakes hands after addressing a rally last week at the University of Wisconsin in Madison. (PHOTO CREDIT: GETTY IMAGES)
FROM CNN's Jack Cafferty:
President Obama continues to have problems when it comes to race.
White independent voters helped make Barack Obama the first African-American president in history, but now a lot of them apparently don't like him so much anymore.
A CNN poll taken shortly after President Obama was inaugurated in April 2009 showed a 61 percent approval rating among whites. That same poll now shows the president with a 34 percent rating among whites. Meanwhile, more than 90 percent of blacks approve of the job the president is doing.
And there are more signs of trouble when it comes to support from white voters - not just for the president but for the Democrats in general.
Another new poll shows working-class whites are flocking to the Republican Party, which will make it even tougher for the Democrats to keep control of Congress.
The Associated Press-GFK poll shows whites without college degrees prefer Republican candidates by 22 percentage points. That's double the margin of the past two elections.
Compare that with white people with college degrees, who are split evenly between the two parties; and minorities, who heavily back the Democrats.
Working-class whites are a key voting bloc - they make up about four in 10 voters nationally, and the Democrats can't afford to lose more of them. A lot of these voters were never too fond of Barack Obama to begin with. Remember Obama's comments about bitter small-town voters who cling to their guns and religion?
The silver lining for Democrats here is almost 30 percent of working-class whites in this poll say they may still switch candidates. If they don't, the Democrats could see a tsunami.
Here's my question to you: Why have so many whites turned against President Obama and the Democrats?
Interested to know which ones made it on air?