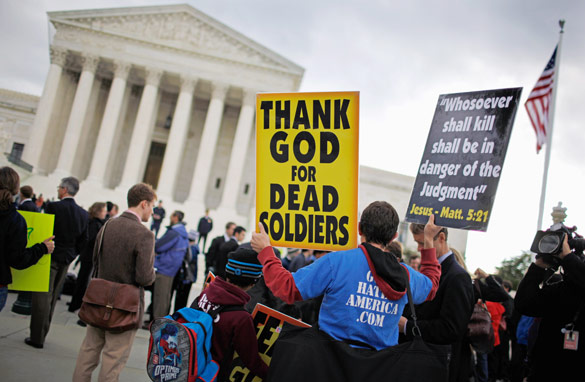 Protesters demonstrate outside the U.S. Supreme Court while justices hear oral arguments in the First Amendment case of Snyder v. Phelps. (PHOTO CREDIT: GETTY IMAGES)
FROM CNN's Jack Cafferty:
The Supreme Court is deciding a case involving the disgusting behavior of protesting at funerals.
The case focuses on a Baptist Church from Kansas whose anti-gay protests have targeted the funerals of soldiers who died in Iraq and Afghanistan.
The church claims the soldiers' deaths are God's revenge for the United States tolerating homosexuality. Members of this church have traveled around the country, showing up at funerals and shouting at grieving family members.
They also display signs with messages like, "Thank God for dead soldiers," "God blew up the troops" and "AIDS cures fags."
The Snyder family sued the church in 2007 after protests at their son's funeral. Their suit claims invasion of privacy and the intentional infliction of emotional distress. A jury awarded them more than $10 million, but that amount was cut in half by a judge and then overturned by an appeals court.
The judges said although the church's message was offensive, the speech was protected.
The soldier's father, Albert Snyder, said his son was not gay and the protesters shouldn't have been at his funeral, calling their actions "inhuman."
The attorneys general of 48 states and the District of Columbia, along with a bipartisan group of 40 senators, support the Snyders. So does common sense.
The church insists it has the right to protest at funerals. It is backed by First Amendment and media groups, which denounce the church's message but defend its free speech rights.
The Supreme Court's decision in this case isn't expected for months.
Here's my question to you: Should people be barred from protesting at funerals?
Interested to know which ones made it on air?
David in Oregon writes:
Well, of course, Jack, it's free speech. But that doesn't mean they can run their stupid, cruel protest right there. Let's say: no closer than a hundred miles.
Patrick in Westminster, Maryland writes:
Absolutely, yes. Not only is Al Snyder a personal friend of mine but I knew Matt from birth and my wife taught Matt Confirmation at St John Catholic Church. The Snyders are very spiritual people. Unlike what they were confronted by. What Al and his family and friends experienced on the day of Matt's funeral was anti-American, anti-Church and by any measure, including the First Amendment, a violation of the Snyder's civil and moral rights.
Jeanne in Kansas writes:
I am born and raised in Kansas. That "church", only 30 miles away from me, frightens me more than any tornado ever could. You can see a tornado coming and you can go down into your basement and protect yourself. But, the Phelps family is a blight – like bindweed in a wheat field – you know that even if you pull it up by the roots, it will come back. And, you can spray poison on it and keep it under control this year, but next year, you have to spray again.
Annie writes:
I do believe people should be barred from protesting at funerals. Regardless if it is military or civilian, their families deserve to bury their loved ones in peace. The person that had a hand in my father's death died not long after. I would never have dreamed of violating his family's grieving by screaming obscenities or saying "Thank God he is dead." There is a time to voice your opinion and it is not at someone's funeral.
Gail in Plano, Texas writes:
Jack, There is a difference between free speech and hate speech. This is a perfect example of hate speech. And it is beyond comprehension that it has been allowed to continue destroying families at their loved one's funerals. Cowards hide behind the Constitution which they probably know nothing about. These people are very, very crazy. And very, very sick! I am totally ashamed.
Joe in Kent Island, Maryland writes:
I hate to say it, but as much as I hate the scum that protest at military funerals, the right to free speech has to stand unhindered.
Mick in Connecticut writes:
Why not handle it like they did all protests during the Bush years? Provide a designated free speech zone 5 miles away.