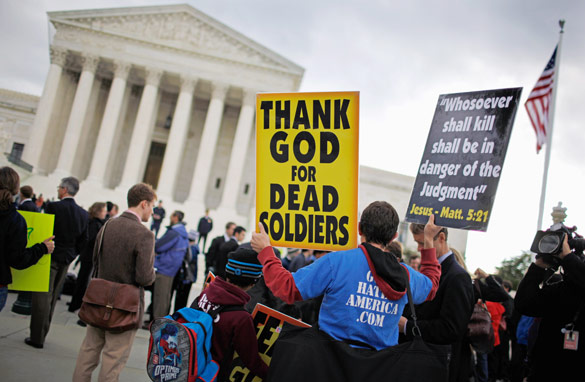 Protesters demonstrate outside the U.S. Supreme Court while justices hear oral arguments in the First Amendment case of Snyder v. Phelps. (PHOTO CREDIT: GETTY IMAGES)
FROM CNN's Jack Cafferty:
The Supreme Court is deciding a case involving the disgusting behavior of protesting at funerals.
The case focuses on a Baptist Church from Kansas whose anti-gay protests have targeted the funerals of soldiers who died in Iraq and Afghanistan.
The church claims the soldiers' deaths are God's revenge for the United States tolerating homosexuality. Members of this church have traveled around the country, showing up at funerals and shouting at grieving family members.
They also display signs with messages like, "Thank God for dead soldiers," "God blew up the troops" and "AIDS cures fags."
The Snyder family sued the church in 2007 after protests at their son's funeral. Their suit claims invasion of privacy and the intentional infliction of emotional distress. A jury awarded them more than $10 million, but that amount was cut in half by a judge and then overturned by an appeals court.
The judges said although the church's message was offensive, the speech was protected.
The soldier's father, Albert Snyder, said his son was not gay and the protesters shouldn't have been at his funeral, calling their actions "inhuman."
The attorneys general of 48 states and the District of Columbia, along with a bipartisan group of 40 senators, support the Snyders. So does common sense.
The church insists it has the right to protest at funerals. It is backed by First Amendment and media groups, which denounce the church's message but defend its free speech rights.
The Supreme Court's decision in this case isn't expected for months.
Here's my question to you: Should people be barred from protesting at funerals?
Interested to know which ones made it on air?