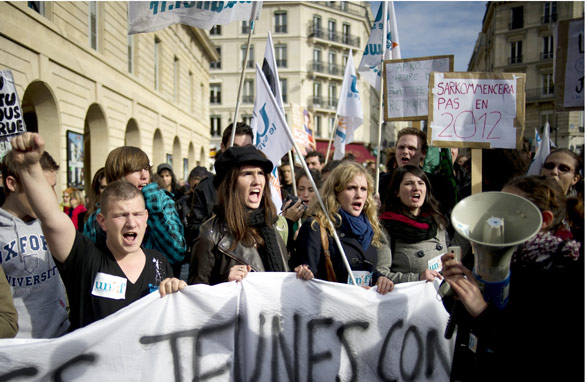 (PHOTO CREDIT: GETTY IMAGES)

From CNN's Jack Cafferty
Take a good look at what's going on in Europe, because we just might be next:
As France tightens its fiscal belt, protesters continue to take to the streets.
Earlier today, the French Senate passed the final draft of a bill that raises the minimum age for retirement from 60 to 62, and raises the full retirement age from 65 to 67.
This pension reform measure, which is expected to become law next month, has drawn more than a million protesters.
Unions have walked out on refineries, choking the nation's oil supply. There have been strikes at major ports, disrupted train service and garbage collection. More than 9,000 tons of rotting garbage are piled up in the streets of Marseilles alone.
Students have also come out by the thousands to demonstrate against the government cut-backs. In all, it's estimated these strikes are costing France's economy more than $500 million a day.
And it's not unlike what we saw last spring and summer in Greece, where tens of thousands protested sweeping reforms there, including cuts in pension benefits and increasing the retirement age to 65.
Union protests disrupted plane, ferry and public transport service and public offices were shut.
Meanwhile, despite all the budget cutting, it probably still won't be enough. Experts say Greece is likely to default over the next three years.
There's a lesson in all this for the U.S. If our leaders want to get serious about this nation's staggering deficits, they're going to have to make tough cuts – to things like Social Security, Medicare, and Medicaid. They're going to have to raise taxes – maybe a lot – and perhaps raise the retirement age. In other words, it could get very, very ugly.
Here's my question to you: Will spending cuts in the U.S. lead to the kind of thing we're seeing in France?
Interested to see which ones made it on air?
FULL POST