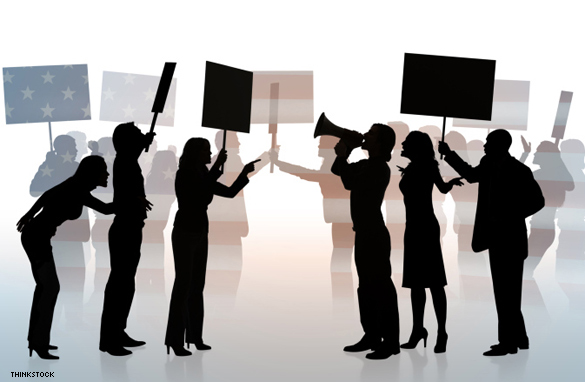 (PHOTO CREDIT: THINKSTOCK)
FROM CNN's Jack Cafferty:
It's no secret the American people are fed up with Washington, the politicians who make a living there on our tax dollars, and their inability to act on the issues that really matter.
Only three in 10 Americans say things are going well in the country today - according to a new CNN/Opinion Research Corporation Poll.
And you can bet, when these disillusioned voters cast their ballots for the midterm elections, they'll have many issues weighing on their minds.
This same poll shows 49 percent of those surveyed say the economy remains the top problem facing the country.
That's followed by 11 percent who say the deficit, 10 percent who say education, and nine percent who say Health Care and the Wars.
Other issues lower down on the list include: Illegal Immigration, Terrorism and Energy.
When asked what the most important economic problem is, people overwhelmingly say unemployment. No surprise there, with a national unemployment rate hovering just below 10 percent.
Other economic issues people worry about include Taxes, Housing, the Stock Market and Inflation.
These midterm elections are shaping up into some very interesting contests. With the anti-incumbent mood at record levels, people seem to be looking for something - anything - different... which has translated into big victories for the Tea Party.
Many Americans are unhappy with President Obama's policies, which could mean big losses for the Democrats. You don't need to look any further than the president's signature issue of Health Care.
Fewer than one in five Americans say the new health care reform law will help them personally; and almost half of the country wants Congress to repeal most of the major provisions.
Here's my question to you: What issue is most important to you in the midterm elections?
Interested to know which ones made it on air?
Paula in New Mexico writes:
Tipping the balance in Congress, and ensuring that Obama's agenda is stopped...COLD.
Mario in Phoenix writes:
It is imperative that in the next 10 years we deliver the green, alternative-energy infrastructures that will enable us to effectively manage the existing financial, employment, and growth deficits we are facing today. If we do not make that commitment, we're doomed to repeat history: As the Greek, Roman, Spaniard, British and Soviet empires were decimated by wars, the forever wars in the middle east and the thirst for oil will claim us
Mike in New Hampshire writes:
Getting a Republican majority, even if a few nut case Tea Party people are needed to do it.
Frank in Indiana writes:
Running the Republicans who created this mess out of office. They block bills, they do nothing. They do not care about the U.S., only money for the rich.
Ron in Maryland writes:
Most important to me in the midterms is electing money-savvy congresspersons. If the government can rein in its uncontrolled spending, stop borrowing from Asia et al. With the killer debt service costs, and start investing in business and projects that employ people, our economy will grow healthy again.
Joe writes:
Taxing the wealthy. Tax breaks for the wealthy is like building a dam up stream. The rancher up stream gets more than enough water, while the rest of us have to make do with what little bit of water leaks through. It's time to blow up this dam and let the water flow. There's plenty for all.
Carl in Illinois writes:
Jack, The economy and illegal immigration. Say no to amnesty of any kind, come in the front door legally, or don't come in at all.
Jon writes:
Reversing the path to socialism and national bankruptcy.
Tom in Maine writes:
Sanity. I agree with Jon Stewart. I don't want a mediocre bunch of politicians replaced with a bunch of hysterical flakes. What the hell is in that tea?