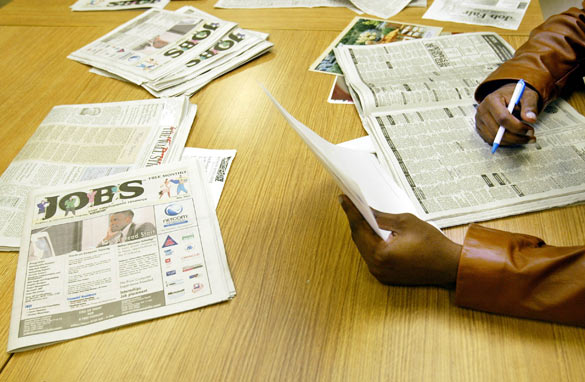 (PHOTO CREDIT: GETTY IMAGES)
FROM CNN's Jack Cafferty:
It's unlikely there were all that many champagne corks popping across the country when we learned this week that the recession officially ended more than a year ago.
And maybe that's because it doesn't feel like the recession has ended…not at all.
A new Gallup Poll shows that 88 percent of those surveyed say now is a "bad time" to find a quality job.
That number is as high as it was one year ago... and higher than it was at this time in 2008, when the recession was under way. Only 55 percent felt this way in 2007, before the recession started.
The bottom line is Americans are waiting for the jobs to come back. It may be a very long wait, and, in fact, a lot of the lost jobs will never come back.
The national unemployment rate is 9.6 percent, and there are no signs it's going to improve significantly for a while. Since the recession started - more than seven million jobs have been lost. Almost two and a half million homes have been repossessed.
But the National Bureau of Economic Research says the recession, which began in December of 2007, ended in June of 2009. This makes the 18-month long recession the longest and deepest downturn since the Great Depression.
Add in weak economic data in the past few months and concerns about a possible double dip recession are growing.
According to CNNMoney.com, a group of top economists say there's a 25 percent risk of a double dip recession in the next year. That's up from a 15 percent chance just six months ago.
Here's my question to you: Do you feel like the recession is over?
Interested to know which ones made it on air?
Stan in Arizona writes:
The recession will deepen before it recovers. When will it recover? My gut tells me we are in for another 10 years of "recovery". People from all walks of life are losing their homes, can't find work, and are selling everything they can. I live in a well-to-do part of Phoenix. People daily are making pet care decisions based on finances rather than medicine. I am a veterinarian.
Don in Nevada writes:
It is not over, but you are also asking the wrong question. For some, it will never be over, because we are witnessing a great divide right now. The middle class is getting wiped out.
Virginia in California writes:
The recession is over? Where? We are at 12% unemployment here. I've been out of work for just a little over 2 years. Where can I move to? Never mind I can't afford to move.
Linda writes:
Yup. Last year was very bad, but this year our business is operating at the same level we peaked at in 2008. I was able to hire back the people we had to let go.
Chris writes:
No, the recession is not over. Unemployment is still through the roof. I just learned today that my health insurance premiums will go up by $100 a month next year. So, not only are there no good jobs, I just took a pay cut. The country is in terrible financial shape and we elect a President that spends money like Paris Hilton.
David in Omaha, Nebraska writes:
I feel like the recession is over, because it is. The economy ceased receding over a year ago; now we have to change some things so it will start growing again. President Obama is taking too much flak for this issue unfairly: he did indeed stop the recession. Give Obama some credit for pulling off a tough feat.
B. writes:
How can you feel if the recession is over? It's a defined term. You're asking whether or not I feel like one plus one is two. Maybe I feel like it's three today. A better question would be, "Since the recession ended, how are you feeling about your financial situation?"