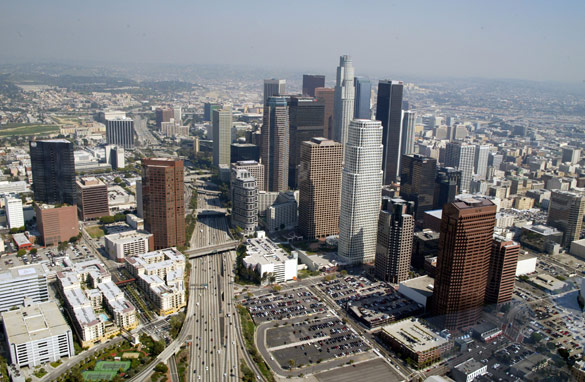 An aerial photo of downtown Los Angeles. (PHOTO CREDIT: GETTY IMAGES)
FROM CNN's Jack Cafferty:
Here's yet another glaring example of government inefficiency:
Two Los Angeles departments that received $111 million in federal stimulus money have only created 55 jobs so far. 55.
Reports by the city controller show that the Departments of Public Works and Transportation moved too slowly in spending the stimulus money - partly due to all the red tape. These agencies say they plan to create or retain 264 jobs once they spend all of the money.
The Department of Public Works, which got $71 million in stimulus money, has plans for projects like resurfacing streets and bridges and rebuilding sidewalks and storm drains.
That all sounds good - but these reports show it took eight months to put together bids, review them and then award the contracts.
As for the Department of Transportation, it's received almost $41 million to buy new buses, upgrade railroad crossings and put in new traffic signals. But the controller's report shows it took nearly a year to get approval to buy some of these buses.
Almost a year. Meanwhile, unemployment in Los Angeles is above 12 percent.
According to The Los Angeles Times, city officials wouldn't comment on the audit - but pointed to newer figures they have showing stimulus dollars at work.
Just imagine what the private sector could do with $111 million. For a $50,000 salary, you could directly hire more than 2,000 people. Not 55.
Here's my question to you: Should two Los Angeles departments have been able to create more than 55 jobs with $111 million in stimulus money?
Interested to know which ones made it on air?
Bobbi in Los Angeles writes:
Since I live in L.A. and am forced to drive on poorly renovated freeways and streets every time I leave the house, I think the city could and should have accomplished a lot more than it has with the money. It's poor management, I'm sorry to say... too many people taking too long to agree on decisions, and then actually implement what this city has needed for several years.
Craig in Scottsdale, Arizona writes:
That is about what I expect from government. That is why it is so alarming to see my fellow citizens calling for the confiscation of wealth from the producers in this country. It will all go to waste and to line the pockets of bureaucrats and government officials. The new rich in this country are likely to be your local government officials.
R. in Santa Rosa, California writes:
The private sector would hire 50 people in China and the CEO and his/her buddies would pocket the rest.
Lynn writes:
My husband is a general contractor trying to pick up any little job he can in many Florida counties with the funds from the federal government. The money has been sitting there and sitting there and sitting there and NOT ONE CONTRACT is being awarded to anyone! What the hell is going on?
Lameck writes:
This shows where our problem is: the good intentions and efforts of the federal government getting curtailed by the few charged with the duty to implement.
Bob in Long Island writes:
Where are the watch dogs? Hello, Joe Biden, are you home?
Jim in Colorado writes:
Some years ago, the French came up with the perfect solution to this sort of problem. They simply removed the heads of the people running the country.
Tom in Texas writes:
Name the 55 Democrats. You know Republicans wouldn't work for just $2 million a year.