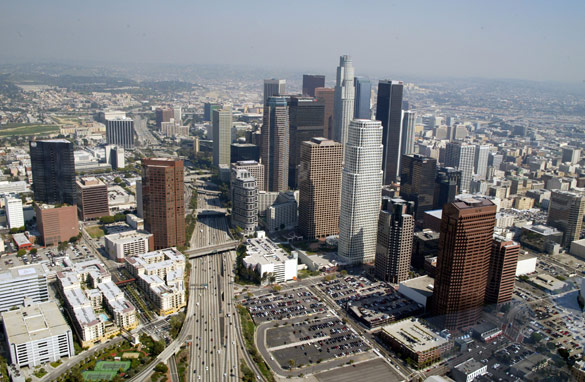 An aerial photo of downtown Los Angeles. (PHOTO CREDIT: GETTY IMAGES)
FROM CNN's Jack Cafferty:
Here's yet another glaring example of government inefficiency:
Two Los Angeles departments that received $111 million in federal stimulus money have only created 55 jobs so far. 55.
Reports by the city controller show that the Departments of Public Works and Transportation moved too slowly in spending the stimulus money - partly due to all the red tape. These agencies say they plan to create or retain 264 jobs once they spend all of the money.
The Department of Public Works, which got $71 million in stimulus money, has plans for projects like resurfacing streets and bridges and rebuilding sidewalks and storm drains.
That all sounds good - but these reports show it took eight months to put together bids, review them and then award the contracts.
As for the Department of Transportation, it's received almost $41 million to buy new buses, upgrade railroad crossings and put in new traffic signals. But the controller's report shows it took nearly a year to get approval to buy some of these buses.
Almost a year. Meanwhile, unemployment in Los Angeles is above 12 percent.
According to The Los Angeles Times, city officials wouldn't comment on the audit - but pointed to newer figures they have showing stimulus dollars at work.
Just imagine what the private sector could do with $111 million. For a $50,000 salary, you could directly hire more than 2,000 people. Not 55.
Here's my question to you: Should two Los Angeles departments have been able to create more than 55 jobs with $111 million in stimulus money?
Interested to know which ones made it on air?