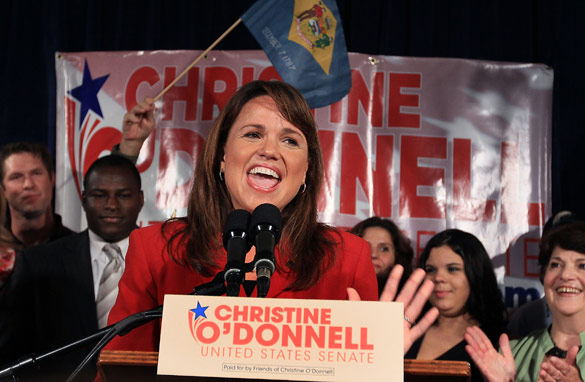 Tea Party backed Christine O'Donnell. (PHOTO CREDIT: GETTY IMAGES)
FROM CNN's Jack Cafferty:
The Tea Party movement might just be the best thing that ever happened to the Democrats - raising questions about internal divisions among Republicans.
Two Tea Party favorites defeated more mainstream Republicans in yesterday's primaries. In Delaware, Christine O'Donnell easily won over nine-time U.S. Rep. Mike Castle in the Senate primary.
Castle, who held elected office in Delaware for more than 40 years, had the entire national GOP establishment behind him while O'Donnell was endorsed by Sarah Palin.
Many believe O'Donnell's win means the Democrats now have an unexpected chance to keep the Delaware Senate seat once held by Vice President Joe Biden. One Republican strategist described the Delaware primary results as "straight out of Harry Reid's dream journal."
Meanwhile, another Tea Party victory came in New York, where Carl Paladino beat Rick Lazio in the primary for governor. Paladino will run against the heavily favored Democrat, Andrew Cuomo.
Although some question the ability of Tea Party candidates to win in the general election, others insist it is one of the most powerful movements in recent American history.
A piece in the Washington Examiner headlined "One nation under revolt" says that while many have ignored or belittled the Tea Party, it has only grown stronger - showing an unprecedented level of activism and enthusiasm.
And here's part of the reason for the Tea Party's success: a new CNN/Opinion Research Corp. poll shows only one in four Americans say they trust the government to do what is right always or most of the time.
Here's my question to you: Is the Tea Party for real?
Tune in to the Situation Room at 5pm to see if Jack reads your answer on air.
And, we love to know where you're writing from, so please include your city and state with your comment.