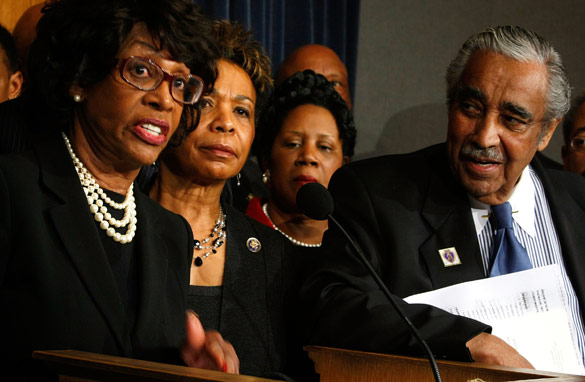 FILE PHOTO: Maxine Waters [LEFT] (D-CA) speaks as Congressional Black Caucus Chairwoman Rep. Barbara Lee (D-CA), Rep. Sheila Jackson-Lee (D-TX), and Rep. Charles Rangel [RIGHT] (D-NY) listen during a news conference on Capitol Hill (PHOTO CREDIT: GETTY IMAGES)
FROM CNN's Jack Cafferty:
As long as we keep re-electing the same vermin, this is the kind of garbage we get that passes for government.
The Hill newspaper reports that watchdog groups expect the ethics trials for Democratic Congressman Charlie Rangel and Democratic Congresswoman Maxine Waters to be delayed until - you guessed it - after the November election.
One group suggests that holding ethics hearings right before the midterms "overly politicizes" the ethics process.
But what about the voters? Don't they have a right to know whether or not their lawmakers are guilty of ethics charges before voting for or against them?
The way it works is the ethics committee must provide the member charged with all the evidence it plans to present in a trial - at least 15 days before the trial starts. So even if the committee gave Rangel and Waters their evidence this week, the trials couldn't start until the beginning of October... right around when Congress will likely leave town - again - to go home and campaign.
Meanwhile, the ethics panel investigated Rangel for almost two years before accusing him of several violations... including not paying taxes on a Dominican Republican villa and improperly using his office to raise millions of dollars for an education center named after him.
Two years!
Waters is accused of using her position to help a bank - where her husband owns stock - win millions of dollars in federal bailout funds.
Both lawmakers insist they are innocent and will fight the charges in a public trial. Waters has already won her primary in California and doesn't face a serious challenge in the general election. Rangel still needs to win tomorrow's primary here in New York.
Here's my question to you: Should the ethics trials of Reps. Charlie Rangel and Maxine Waters be postponed until after the November elections?
Interested to know which ones made it on air?
Randy in St. Louis writes:
And why would we do this, delay the proceedings? So these two can win reelection? So they can hope not that many people read the news? This sickens me and I KNOW it's just the tip of an iceberg.
Overby writes:
I don't know if they're innocent or guilty, and I don't care one way or the other, but you'd think if they were innocent they'd be calling for an immediate trial to clear their names, wouldn't you?
Sherrie writes:
These ethics trials are used for harassment by both parties, but mostly by Republicans. It doesn't matter when they are held.
Greg in Pennsylvania writes:
Justice delayed is justice denied. If they are guilty, let them hang. If they are acquitted, then let's get on with the real issues facing the world.
Bill writes:
No, absolutely not. They must be held before the elections so voters have as much information as possible when they head into the ballot box.
Coralie writes:
Should have already been done, although the next Congress may be more willing to hold them accountable.
Kevin in Atlanta writes:
Ethics trials are just a show to reassure us that Congress is capable of policing itself. They mean nothing.
Jafsie writes:
Frankly, what scares me more than more of the same is the wackos who are running to "take back the government," many of whom have no experience, no ideas, and no brains. You think government now is "garbage", just wait and see what you get when the Congress fills up with a bunch of morons who view people who are able to earn a four-year college degree in under six years as "elitists."
Paul writes:
I love ya, man! But sorry, I like Congressman Rangel too.