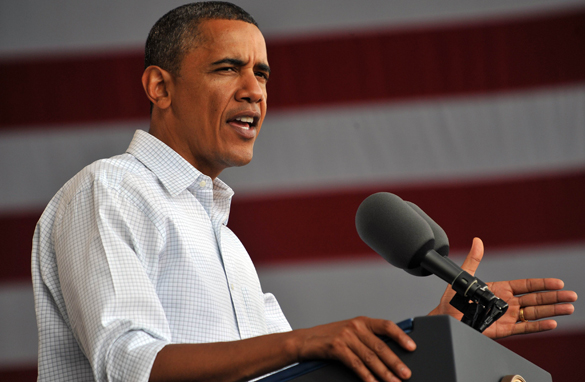 President Obama is pictured yesterday in a speech about the economy at the Milwaukee Laborfest in which he unveiled plans to spend at least $50 billion to expand and renew roads, railways and airports in a bid to fire up economic growth. (PHOTO CREDIT: GETTY IMAGES)
FROM CNN's Jack Cafferty:
As Recovery Summer draws to a close and all the polls are suggesting the Democrats are about to suffer a crushing defeat in the midterm elections, President Obama has decided now is the time to roll out a new economic plan.
Some Democrats are worried it's all too little, too late.
The president wants to spend up to $350 billion in new stimulus money to jump-start the shaky economy.
There's a $200 billion tax cut for businesses to buy new equipment in the next year and a $100 billion permanent extension of the business tax credit for research and development.
Plus, there's a $50 billion infrastructure plan to try and create jobs in the long term. This would include rebuilding 150,000 miles of roads, 4,000 miles of rails and 150 miles of airport runways.
But officials acknowledge that no new jobs will actually be created until 2011.
All told, this $350 billion would total nearly half the size of the initial stimulus plan passed when President Obama first took office. And of course at the moment there is no money available to pay for any of this.
It's highly unlikely any of this will get through Congress. They come back from their summer break next week and will be in session for less than a month before heading out of town - again - for the midterm elections.
Meanwhile - Americans aren't feeling much recovery when it comes to the economy
A new CNN/Opinion Research Corporation Poll shows 81 percent rate economic conditions as poor, only 18 percent say they're good. About half of the country says conditions have not improved in the last two years.
Here's my question to you: Is President Obama's latest economic plan too little too late?
Interested to know which ones made it on air?
Bob writes:
No, It is just not the right answer! The economy needs jobs. Maybe he should try this: Make e-Verify mandatory, NO amnesty, secure the border, tax those that outsource and then bring product back to U.S., tax China and bring back manufacturing jobs. This alone would create millions upon millions of jobs. Now that is a fix!
Steve in Concord, California writes:
Considering how long the administration has been in office, that would be a definite 'yes'. This administration should have had a working plan on day one. The economic plan we have now, if any, is 20 months overdue, and even this plan won't guarantee economic recovery.
Julie writes:
Jack, Could you please see the glass as half-full? Apparently about 90% of us are doing ok, we're just afraid because the news keeps telling us how afraid we should be. As our consumer confidence grows, so will our economy.
Jim in Michigan writes:
Jack, This is about garnering union votes. Every stimulus dollar is targeted toward a union job. This administration is throwing darts and is hoping they will hit something and win a prize. Tell me, Jack, we pay a federal tax on every drop of gas we put in our cars and trucks; that money is targeted for road and bridge repairs so why do we need stimulus money? Please tell me that they did not rape the road repair funds like they did social security – did they?
Tammy in California writes:
I wouldn't say too little too late. We spent A LOT but it did TOO LITTLE. Their new plan should have been the original plan: infrastructure, roads and railways, etc. I voted for Obama, still like him, but I'm exasperated by the whole thing.
Jeremy in Traverse City, Michigan writes:
Yes, it is far too late. The first stimulus was a complete FAILURE on Obama's part. We don't need to spend even more or our grandchildren's money! This money isn't free. Please stop the insanity.
Mark writes:
It's maybe too little, but it's never too late.