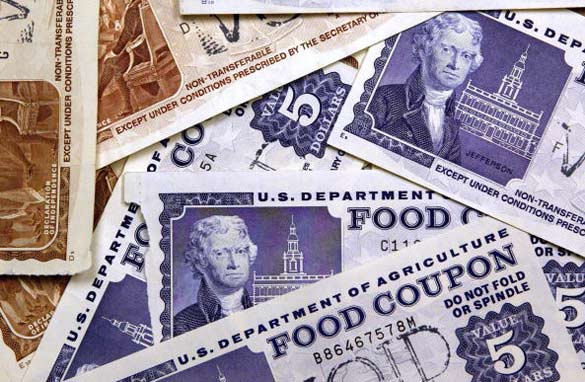 Traditional food stamps like the ones pictured here are no longer distributed. All 50 states now provide debit-style EBT cards. (PHOTO CREDIT: GETTY IMAGES)
FROM CNN's Jack Cafferty:
In case you think times aren't tough... a record one in six Americans is getting aid from the government. One in six.
USA Today reports on the stunning growth of programs like Medicaid, food stamps, unemployment insurance and welfare.
Some numbers: more than 50 million Americans are on medicaid - that's up 17 percent since the recession started.
President Obama's new health care law will add another 16 million people to the health care system. Experts say doctors are already indicating "that they're at their limit."
More than 40 million people get food stamps - an increase of almost 50 percent during the recession. The food stamp program has grown steadily for the last three years.
Almost 10 million people are collecting unemployment insurance, which is about four times as many people that got unemployment in 2007.
Congress has extended unemployment benefits eight times, which now means the unemployed can collect a check for up to 99 weeks... almost two years.
And there are almost four and half million people collecting welfare - an increase of 18 percent during the recession.
Critics worry that it will be hard to cut back on all these programs once the economy recovers. While supporters say the government should be there to help people in bad economic times.
But just remember: we, the American taxpayers, are the ones footing the bill for all of these government programs. And as caseloads continue to increase... the soaring costs will be tacked on to our already skyrocketing deficits. The cost of the food stamp program alone is up 80 percent... and jobless benefits are costing us four times as much as they used to.
Here's my question to you: What does it mean when 1 in 6 Americans takes government aid?
Interested to know which ones made it on air?