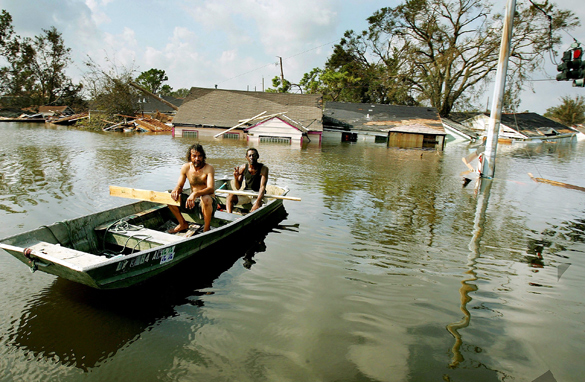 (PHOTO CREDIT: GETTY IMAGES)
FROM CNN's Jack Cafferty:
This weekend marks five years since Hurricane Katrina slammed into the Gulf Coast and all but destroyed the city of New Orleans.
The horrible images that came in the days and weeks following Katrina are unforgettable - a major American city literally underwater. People stranded on rooftops and in the Superdome, wading in floodwater with their belongings and families in tow in the sweltering heat.
The dismal response from the Bush administration only made matters worse - and left many wondering what was wrong with our federal government.
Five years later, despite the death and destruction, in some ways New Orleans is better than ever. There are more hotels and restaurants there than before Katrina... and much of the city's major infrastructure has new or rebuilt facilities. Lots of federal money has also poured into the schools, which were dysfunctional before Katrina and the public health system is also getting better.
As for the levees and water control systems, work still continues - but they're improving. Nonetheless, some worry that even the best levees won't be enough to withstand another storm like Katrina. Also, crime remains a huge problem. Several police officers are on trial for shooting unarmed civilians in the days following Katrina and allegedly covering it up.
Housing is a major concern too - especially in the poor neighborhoods where many lots remain empty.
As for what Katrina and the fate of New Orleans means for the rest of us, a new Pew poll shows 57 percent of Americans say the nation is no better prepared for hurricanes and other natural disasters than it was five years ago.
Here's my question to you: Five years after Katrina, what can the rest of us learn from New Orleans?
Interested to know which ones made it on air?
Denny in Tacoma, Washington writes:
It means that the government that we financially support and at times defend with our lives is often not there when we really need it.
Steve in Clifton, Virginia writes:
The big lesson to be learned is that when we as Americans act collectively for each other's common good towards a common goal, we can overcome anything. We need to focus less on party affiliations, race, gender and sexual orientation and focus on the common good of our great country!
Susan from Idaho writes:
There's no place like home. The residents have proven that they are made of the right stuff and have given us all a reason to respect them. I have been to New Orleans many times and what I've seen after Katrina is we were down but never out.
Jeff in Houston writes:
The same thing we learned during the Bush Regime: If you are not a rich, white male with corporate and/or political connections then you really do not matter. Go ahead and die. One less pesky minority type thinking they have rights. What nerve.
John in Alabama writes:
Jack: Have a plan for nature's disasters or man made disasters. Know how to leave the area, and make sure important papers like Social Security Cards, Bank Statements, and Property information are with you. Do not stay anywhere, if ask to evacuate by the authorities. Remember, we only have one life to live, and it is always better to breathe in a new place than to be dead at home.
Rick writes:
Number one lesson: don't build in areas below sea level!
Andy in Massachusetts writes:
Trust your neighbors to help you when you're down and out; and remember that Rome wasn't built in a day. The people of Naw'lins are its spirit and the spirit is flying high.