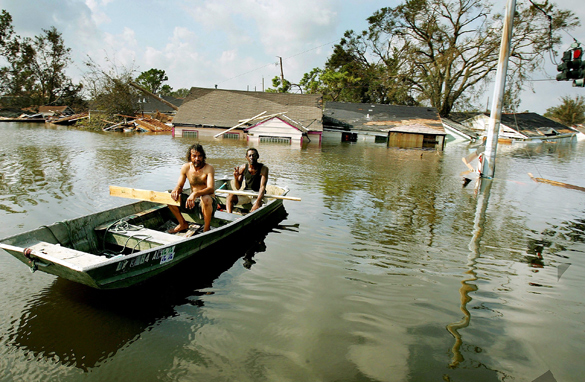 (PHOTO CREDIT: GETTY IMAGES)
FROM CNN's Jack Cafferty:
This weekend marks five years since Hurricane Katrina slammed into the Gulf Coast and all but destroyed the city of New Orleans.
The horrible images that came in the days and weeks following Katrina are unforgettable - a major American city literally underwater. People stranded on rooftops and in the Superdome, wading in floodwater with their belongings and families in tow in the sweltering heat.
The dismal response from the Bush administration only made matters worse - and left many wondering what was wrong with our federal government.
Five years later, despite the death and destruction, in some ways New Orleans is better than ever. There are more hotels and restaurants there than before Katrina... and much of the city's major infrastructure has new or rebuilt facilities. Lots of federal money has also poured into the schools, which were dysfunctional before Katrina and the public health system is also getting better.
As for the levees and water control systems, work still continues - but they're improving. Nonetheless, some worry that even the best levees won't be enough to withstand another storm like Katrina. Also, crime remains a huge problem. Several police officers are on trial for shooting unarmed civilians in the days following Katrina and allegedly covering it up.
Housing is a major concern too - especially in the poor neighborhoods where many lots remain empty.
As for what Katrina and the fate of New Orleans means for the rest of us, a new Pew poll shows 57 percent of Americans say the nation is no better prepared for hurricanes and other natural disasters than it was five years ago.
Here's my question to you: Five years after Katrina, what can the rest of us learn from New Orleans?
Interested to know which ones made it on air?