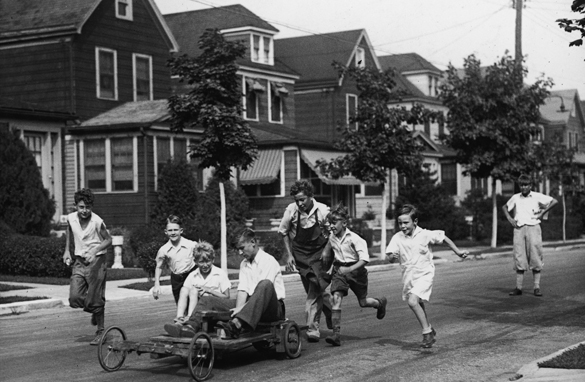 In this photo from the 1930s, a group of boys on a residential street run after their homemade go-kart.  (PHOTO CREDIT: GETTY IMAGES)
FROM CNN's Jack Cafferty:
While the White House insists this is a "recovery summer," others say it looks a lot more like the Great Depression.
CNBC reports that economist David Rosenberg says like today, the Great Depression also had its high points - including big stock market gains and a series of positive GDP reports. Yet in both cases, these signs of recovery were unsustainable and gave people a false sense of stability.
According to Rosenberg, the U.S. economy is in "a depression, and not just some garden-variety recession." He compares how both during the 1930s and today people have a "euphoric response" to any glimmer of good economic news.
He says in the 1929-1933 depression, there were six quarterly bounces in GDP. So far, we've had four this time around.
Several top analysts have slashed their GDP projections for 2010... down to the 1.5 and two percent range.
The president of the Chicago federal reserve says that the risk of a double dip recession is growing, adding that the government programs meant to help homeowners aren't working.
Existing home sales plunged more than 27 percent last month - twice as much as analysts expected. And new home sales also fell by more than 12 percent to their slowest pace ever.
Economists warn that a double-dip in housing prices is also just around the corner - which could slow the recovery even more.
Add in the fact that there are no jobs, unemployment remains stuck near 10 percent, and the outlook is dark.
To top it off, Morgan Stanley says a global debt crisis is just beginning, and the bond market tussle we saw in Europe this past spring is just the beginning.
Here's my question to you: What might it mean that there are striking similarities between the Great Depression and today's economy?
Interested to know which ones made it on air?
Andy writes:
Jack, It means that we are living at a time when America will fall as a world power. We're spending money we don't have. The two political parties have forced each other into a corner where they can not raise taxes, even though we may collapse if additional federal revenue is not raised. The scariest factor in all of this is that there is no politician that can inspire America to achieve excellence. We've 'outsourced' our jobs, allowed American corporations to move out of the country. We allow illegals to have more benefits than any American citizens and I don't see an end to what is going on.
Mark writes:
It might mean we are in or headed to a similar many-year economic retrenchment. But I think it more likely means we have too much print space and airtime to fill, so provocative comments like those of Rosenberg get play they do not deserve. This was a severe recession, but it is over.
Dave in Cleveland:
Not sure, but the similarities between the depression years and today are remarkable... It took a war to pull us out of that extended period. The direction proposed by today's administration is forward – forward over a cliff. We need some very tight fiscal policy, including the wind-down of many of our entitlement programs. No one challenges the fact that we cannot afford them, but not one leader is stepping forward with the truth and hard solutions.
Larry in Wisconsin writes:
I wish my Dad was still alive. He could answer the question, he lived through the last one. What I recall from the job situation, that he used to tell me about, I don't see it quite that bad just yet. He would tell of the government-sponsored jobs that were put in place to help with employment, like lumber jacking, and various other manual labor jobs. We certainly aren't doing that, but, should we?
Karen writes:
We are in a depression, but you can't say that because people are weak and couldn't take it. So we get these little glimmers of hope and a pat on the head and everyone goes about their business in a fog.
Dave writes:
The main difference is in the Great Depression people made real changes to their lives to correct things. Today no one wants to change. They want the government to fix everything while they waste time and money updating their social network pages and "tweeting" about it.