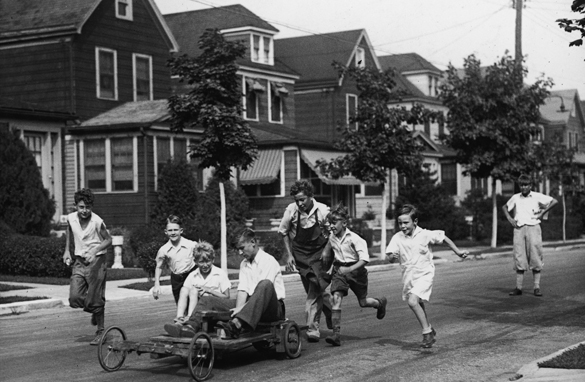 In this photo from the 1930s, a group of boys on a residential street run after their homemade go-kart.  (PHOTO CREDIT: GETTY IMAGES)
FROM CNN's Jack Cafferty:
While the White House insists this is a "recovery summer," others say it looks a lot more like the Great Depression.
CNBC reports that economist David Rosenberg says like today, the Great Depression also had its high points - including big stock market gains and a series of positive GDP reports. Yet in both cases, these signs of recovery were unsustainable and gave people a false sense of stability.
According to Rosenberg, the U.S. economy is in "a depression, and not just some garden-variety recession." He compares how both during the 1930s and today people have a "euphoric response" to any glimmer of good economic news.
He says in the 1929-1933 depression, there were six quarterly bounces in GDP. So far, we've had four this time around.
Several top analysts have slashed their GDP projections for 2010... down to the 1.5 and two percent range.
The president of the Chicago federal reserve says that the risk of a double dip recession is growing, adding that the government programs meant to help homeowners aren't working.
Existing home sales plunged more than 27 percent last month - twice as much as analysts expected. And new home sales also fell by more than 12 percent to their slowest pace ever.
Economists warn that a double-dip in housing prices is also just around the corner - which could slow the recovery even more.
Add in the fact that there are no jobs, unemployment remains stuck near 10 percent, and the outlook is dark.
To top it off, Morgan Stanley says a global debt crisis is just beginning, and the bond market tussle we saw in Europe this past spring is just the beginning.
Here's my question to you: What might it mean that there are striking similarities between the Great Depression and today's economy?
Interested to know which ones made it on air?