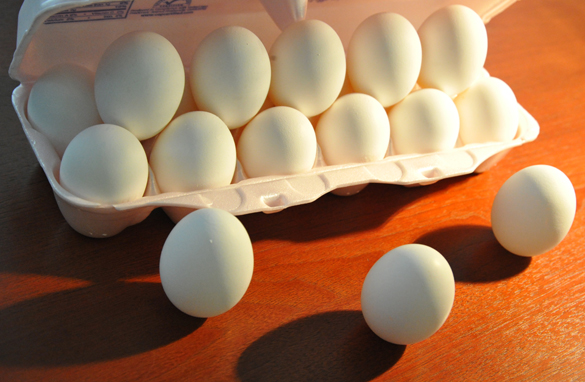 (PHOTO CREDIT: GETTY IMAGES)
FROM CNN's Jack Cafferty:
Hungry? You won't be after you hear this.
The massive, nationwide egg recall is only one reason to question the safety of our food supply.
550 million eggs have been recalled in 22 states... and the government says the related salmonella outbreak has made about 1,300 people sick.
Still hungry? There's also a nationwide meat recall.
Zemco industries in Buffalo, New York has recalled about 380,000 pounds of deli meat - which was distributed to Walmarts across the country. The meat may be contaminated with listeria - which can potentially kill you.
Next up: Fish. Officials in Louisiana say that as many as 15,000 dead fish and other marine animals were found at the mouth of the Mississippi River outlet into the Gulf of Mexico.
They say the fish kill doesn't appear to be directly related to the BP oil leak. But there are lingering questions about the effect of those millions of barrels of oil on all sorts of seafood, including shrimp, in the Gulf.
When it comes to farming, there are ongoing concerns about the use of use of fertilizers, pesticides, and growth hormones.
This is an area where the government is supposed to protect us. The United States Senate has been sitting on a food safety bill that was passed by the House for more than a year.
The present food safety law is 70 years old and is so weak that the food and drug administration can't even authorize recalls... instead the government has to wait on companies to do it themselves.
The pending law would give the FDA recall authority; and would create stricter rules for mandatory inspections. Both are sorely needed… but senate majority leader Harry Reid apparently doesn't agree.
Here's my question to you: How confident are you that the food you eat is safe?
Interested to know which ones made it on air?
Bill writes:
This from an ex-food plant manager of many years. The majority of what you and I eat is very safe. The laws are not the problem, it is the inspection people and how they are trained. Some, like in any profession, do a great job; many others are just lethargic and can be manipulated by plant management. Companies do NOT try, or wish to hurt anyone. But when profits are the driving force, then these incidents can occur. We need laws and policies enforced correctly and with judicious oversight.
John in San Antonio writes:
No confidence whatsoever. The crowd that insists government should not regulate business is reaping the benefits of this failed policy as are the rest of us. Factory farms, controlled by big corporation executives, have taken over our food supply and we now have an abundance of extremely low quality food. No problem though, big Pharma is standing by with the remedy.
Anthony in New Jersey writes:
Soft, obese, over-indulgent Americans can't wait to find a new reason to be fearful. Why don't we all spend our vacations this year in Haiti and Pakistan? We can have fun finding potable water to drink and morsels of food to consume. We people only see life from a privileged position and don't see the world for what it is. A few spoiled eggs don't compare to the hardships billions of people suffer every day.
Allen in Georgia writes:
Careful, Jack, in today's climate of smaller government we don't want to imply that the government should be doing more than they are. Let's just leave it to the private business capitalist folks and they will do a much better job of keeping our food safe than the government could ever hope to do....or so they say. I'm thinking about going back to raising my own chickens and eating poke-salad, like I remember when I was growing up.
Jeff in Minnesota writes:
If you prepare and cook food properly, it is safe. If you take shortcuts or do not cook it correctly, you will have a higher risk of getting sick. We have created a world where there are so many safety nets, that people have forgotten how to protect themselves and expect the government to protect them. As a result, a large percentage of our society ends up getting themselves in trouble.
K. writes:
First, cheap oil and gas. Now, steak and eggs. American traditions falling one by one. Another gravestone on the path to third world status. Gotta love the global economy.