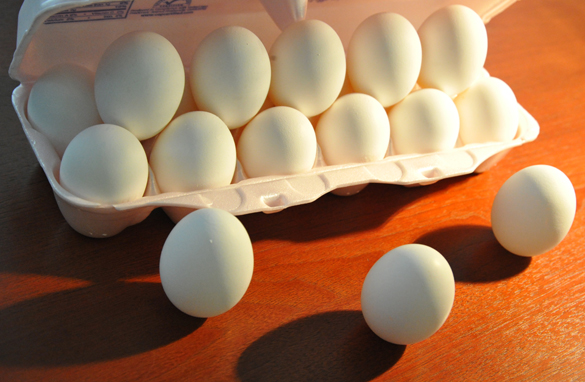 (PHOTO CREDIT: GETTY IMAGES)
FROM CNN's Jack Cafferty:
Hungry? You won't be after you hear this.
The massive, nationwide egg recall is only one reason to question the safety of our food supply.
550 million eggs have been recalled in 22 states... and the government says the related salmonella outbreak has made about 1,300 people sick.
Still hungry? There's also a nationwide meat recall.
Zemco industries in Buffalo, New York has recalled about 380,000 pounds of deli meat - which was distributed to Walmarts across the country. The meat may be contaminated with listeria - which can potentially kill you.
Next up: Fish. Officials in Louisiana say that as many as 15,000 dead fish and other marine animals were found at the mouth of the Mississippi River outlet into the Gulf of Mexico.
They say the fish kill doesn't appear to be directly related to the BP oil leak. But there are lingering questions about the effect of those millions of barrels of oil on all sorts of seafood, including shrimp, in the Gulf.
When it comes to farming, there are ongoing concerns about the use of use of fertilizers, pesticides, and growth hormones.
This is an area where the government is supposed to protect us. The United States Senate has been sitting on a food safety bill that was passed by the House for more than a year.
The present food safety law is 70 years old and is so weak that the food and drug administration can't even authorize recalls... instead the government has to wait on companies to do it themselves.
The pending law would give the FDA recall authority; and would create stricter rules for mandatory inspections. Both are sorely needed… but senate majority leader Harry Reid apparently doesn't agree.
Here's my question to you: How confident are you that the food you eat is safe?
Interested to know which ones made it on air?