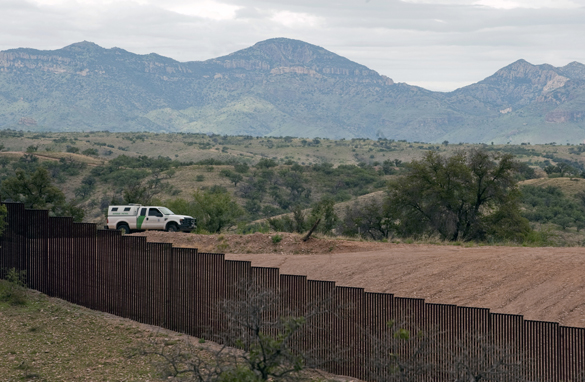 A U.S. Border Patrol vehicle drives along the fence separating the U.S. from Mexico near the town of Nogales, Sonora, Mexico. (PHOTO CREDIT: GETTY IMAGES)
FROM CNN's Jack Cafferty:
One day we may look back on Arizona as the state that led the way when it comes to doing something about the illegal immigration crisis.
22 states are now considering immigration laws like the one passed in Arizona, according to a group called Americans for Legal Immigration.
These include another border state, Texas, along with northern states like Pennsylvania, Ohio, Michigan and New Jersey.
Some states - like Rhode Island and Colorado - are sending lawmakers to Arizona to figure out how to best craft their own immigration laws.
All this is happening, despite the fact that a federal judge threw out key parts of Arizona's law - including requiring police to check the immigration status of anyone stopped for another reason. That ruling is now under appeal.
Polls show a majority of Americans support Arizona's law. They want something done.
Meanwhile - there are signs that the violence from Mexico's drug wars is spilling into the U.S.
A shootout between drug traffickers and Mexican authorities in Juarez injured three police officers and left one gunman dead. Juarez is only 30 yards from the border at El Paso, Texas - and has become one of the deadliest cities in the world - more than 1,800 people have been killed there this year.
Authorities say a bullet from the shootout may have struck a building at the University of Texas. This comes less than two months after several bullets from a deadly shootout in Juarez hit the El Paso City Hall. It's no wonder Texas Governor Rick Perry keeps pleading for more National Guard troops .
Here's my question to you: What does it say if 22 states are considering immigration legislation like Arizona's?
Interested to know which ones made it on air?
Kathie writes:
When Obama denounced the Arizona law, it sent a clear message to all current/future illegals: our borders are open, come on in. The only ones that have to obey the law are the legal citizens. I hope every state adopts Arizona's law!
Mark in Oklahoma City writes:
It means that 28 other states should be prepared to welcome with open arms millions of illegals and all the problems that come with them. Hope those states have BIG budget surpluses. They're going to need them.
Jane in Hancock, Michigan writes:
Jack, If 22 other states are considering Arizona's law it is because they realize that their state budgets can no longer support all the poor of this world. Our economy speaks that truth. Violence or none, illegal immigrants, contribute to the greater issue of states going bankrupt.
George in Texas writes:
Jack, I am from El Paso and I can tell you most people at the University of Texas campus can care less. However, a lot of people from El Paso are getting fed up with the governor for making El Paso look like Iraq for a political agenda. With all the violence in Mexico, El Paso is ok and is one of the safest cities in the U.S.
Matt in Florida writes:
It means that 22 states are repeating history – particularly the nativist "know-nothing" groups that hated the Irish, the Asians, the Catholics, and so on. It's just so much simpler to do that then to go after the ones who HIRE illegal immigrants, as they own the politicians.
Marilyn in Arizona writes:
I think it means that it's time for the president to face this and give us the immigration reform we need... or he'll be suing every state and wasting more money that we don't have!
P. writes:
It says Arizona has the right idea. Simply pass a new law, and the illegals flee. If the 22 states were actually 49, we'd be well on our way to solving the illegal immigration problem, with or without Washington's help.