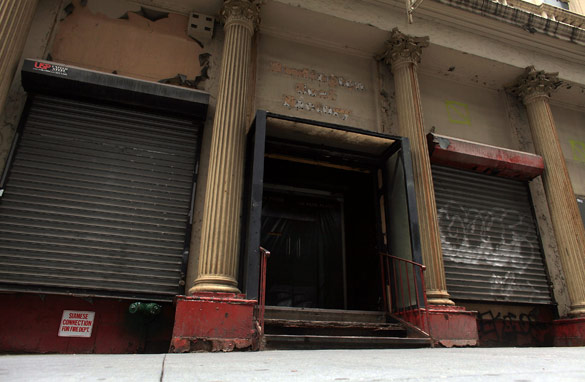 The building which is poised to house the Cordoba Initiative Mosque and Cultural Center in Manhattan. (PHOTO CREDIT: GETTY IMAGES)
FROM CNN's Jack Cafferty:
Sometimes no answer can be an answer. When asked if a portion of the $100 million needed to build the mosque and Islamic community center near Ground Zero might come from either Saudi Arabia or Iran, the developers refused to comment.
This only adds to the already heated controversy surrounding this project. Remember 15 of the 19 hijackers responsible for deaths of nearly 3,000 people and the destruction of the World Trade Center on September 11 came from Saudi Arabia. And the U.S. considers Iran a sponsor of terrorism.
Nonetheless - New York Governor David Paterson tells CNN he's still working on finding a compromise site for the mosque and Islamic center away from Ground Zero.
The developer, Sharif el-Gamal, has said the proximity of the planned mosque and center is not an issue.
Really?
If the people behind this project are sincere about community relations, you'd think they would do something about improving community relations - and talk to the governor about a compromise.
This is not about freedom of religion - no one is suggesting Muslims can't practice their religion. This is about insensitivity to what happened on September 11 and an affront to this city and country. The murders of 3,000 people were committed by muslim extremists.
That's the reason for the outcry from families of victims, rescue workers, and New Yorkers in general - 2/3 of them are opposed. It's simply unrealistic to think you can build a muslim house of worship two blocks from where this awful thing happened and not get a negative reaction. But then I think the developers probably know that.
Here's my question to you: What's the real reason that the Muslim community doesn't want to relocate the mosque and Islamic community center planned near Ground Zero?
Interested to know which ones made it on air?