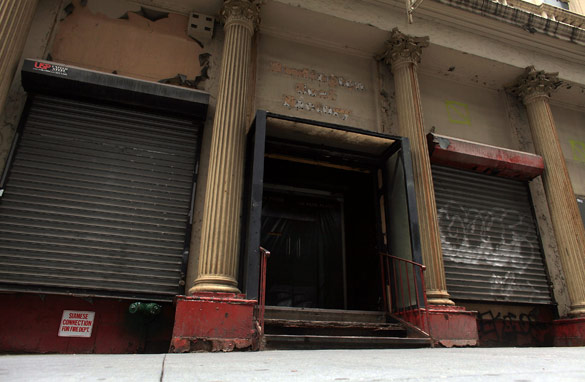 The building which is poised to house the Cordoba Initiative Mosque and Cultural Center in Manhattan. (Photo by Spencer Platt/Getty Images) (PHOTO CREDIT: GETTY IMAGES)
FROM CNN's Jack Cafferty:
Pres. Obama has stepped into a real firestorm in defending a planned mosque near Ground Zero. He's also managed to turn what was a highly emotional debate here in New York into a national conversation.
On Friday, the president called Ground Zero "hallowed ground," but said Muslims have the same right to practice their religion as anyone else. He said that includes the right to build a mosque and a community center on private property in lower Manhattan. The next day - the president seemed to backtrack by saying he wasn't "commenting on the wisdom" of the project... but rather the idea that the government should treat everyone equally, regardless of religion.
Republicans are pouncing on the president's comments, calling him insensitive to families of 9/11 victims. Some point out that even though the president may be right intellectually, this is an emotional issue.
Families of 9/11 victims are divided over the proposed mosque and Islamic community center. A recent CNN/Opinion Research Corporation poll shows almost 70 percent of Americans oppose the plan.
The New York landmarks preservation commission has said the the project can go forward. The Islamic center is set to include a mosque, a performing arts center, a lecture hall, a swimming pool, a gym, a restaurant... and a mosque.
New York Gov. David Paterson has offered to relocate the mosque to a less controversial location on state-owned land... but the project's developers said no.
Here's my question to you: Are Muslims buying themselves unnecessary problems by insisting on building a mosque near Ground Zero in New York?
Interested to know which ones made it on air?
John writes:
Tolerance goes both ways. To show understanding for the pain the 9/11 families are going through, the developers of the mosque should voluntarily move it. Just because you have a right to do something doesn't make it right.
Kendy in Delaware, Ohio writes:
Maybe they are. The real question should be why are so many people reluctant to afford them their constitutional right to practice their religion freely? Seems to me a lot of conservatives are participating in selective tolerance. They would holler just as loud if a gay marriage chapel wanted to open there!
Marja in Sweden writes:
No, and besides, it's two blocks away from Ground Zero. Even though the sorrow of relatives of the victims of 9/11 is most understandable, it's regrettable if some of them take seriously the misinformation of certain Tea Party members who want to spread hate mixing up Muslims with al Qaeda. I'm a Christian from Stockholm, Sweden.
Jade writes:
You bet they are asking for trouble! I mean come on! Sure they have the right to build, but what about respect? Why choose THIS spot to place their mosque? These people are crazy for considering building a Muslim mosque so close to a site that was attacked by Islamic suicide bombers! It is almost as if they are challenging us.
Pete in Georgia writes:
Does anyone believe that Muslims anywhere on this planet are sensitive to anyone or anything except their own hellish agendas?
Amine writes:
I don't think we are buying unnecessary problems. It's a matter of principle and to honor everyone who died on 9/11. Not only Christians died in this tragedy but Jews, Muslims and non-believers. Also, if two blocks from the WTC is not good enough for you and your racist friends, then is 5 blocks ok? Almost in every town in the U.S., people are against mosques being built because they're misguided by the media and the hatred they inject in everyone.
Elizabeth in Dallas writes:
Settlers came here because of religious persecution. We are one of very few countries in the world organized around values and ideals, not ethnicity and heredity. America's greatest strength is its diversity. We shouldn't ditch our values because devout people want to practice their faith.