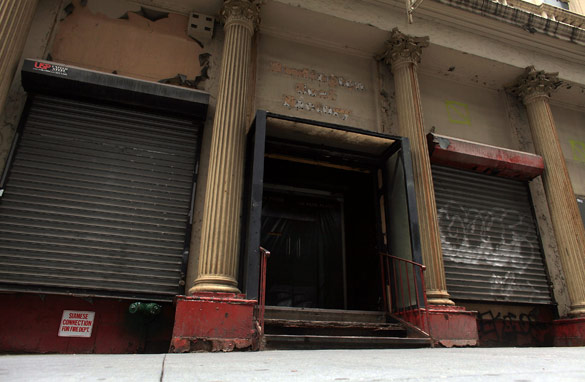 The building which is poised to house the Cordoba Initiative Mosque and Cultural Center in Manhattan. (Photo by Spencer Platt/Getty Images) (PHOTO CREDIT: GETTY IMAGES)
FROM CNN's Jack Cafferty:
Pres. Obama has stepped into a real firestorm in defending a planned mosque near Ground Zero. He's also managed to turn what was a highly emotional debate here in New York into a national conversation.
On Friday, the president called Ground Zero "hallowed ground," but said Muslims have the same right to practice their religion as anyone else. He said that includes the right to build a mosque and a community center on private property in lower Manhattan. The next day - the president seemed to backtrack by saying he wasn't "commenting on the wisdom" of the project... but rather the idea that the government should treat everyone equally, regardless of religion.
Republicans are pouncing on the president's comments, calling him insensitive to families of 9/11 victims. Some point out that even though the president may be right intellectually, this is an emotional issue.
Families of 9/11 victims are divided over the proposed mosque and Islamic community center. A recent CNN/Opinion Research Corporation poll shows almost 70 percent of Americans oppose the plan.
The New York landmarks preservation commission has said the the project can go forward. The Islamic center is set to include a mosque, a performing arts center, a lecture hall, a swimming pool, a gym, a restaurant... and a mosque.
New York Gov. David Paterson has offered to relocate the mosque to a less controversial location on state-owned land... but the project's developers said no.
Here's my question to you: Are Muslims buying themselves unnecessary problems by insisting on building a mosque near Ground Zero in New York?
Interested to know which ones made it on air?