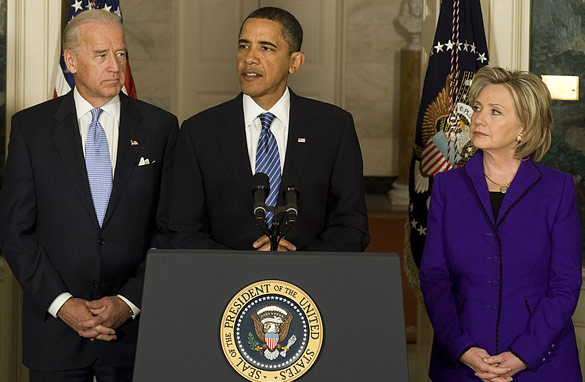 (PHOTO CREDIT: JIM WATSON/AFP/GETTY IMAGES)
FROM CNN's Jack Cafferty:
President Obama should drop Joe Biden and put Hillary Clinton on the ticket with him if he runs for re-election in 2012.
It's an idea that's getting lots of attention these days... despite the fact that the election is still more than two years away.
This all heated up after a piece on Politico.com this month by former Virginia Governor Douglas Wilder. He says as Secretary of State, Clinton has been nothing but a team player. Wilder says she's been tough and commanding when necessary... as well as graceful and diplomatic. He then compares her to Biden, who as Vice President has continued to make his infamous gaffes.
Wilder also points out that Clinton might be able to help the President win key voting blocs, like middle class Independents and working class voters.
Since the Wilder piece, the idea is popping up all over, from the pages of the Wall Street Journal to Time magazine, AOL's Politics Daily and The Daily Beast.
Some suggest Clinton and Biden should swap roles as Secretary of State and Vice President... while others argue that putting Clinton on the ticket will give Pres. Obama the best shot at re-election.
And then there's the whole notion of President Obama creating yet another historic ticket - with the first female vice president.
As for The White House - it quickly shot down this idea, insisting Joe Biden will continue to be a "trusted partner" for the president.
Of course, this could be a moot point if Mrs. Clinton decides to make another run at the top job.
Here's my question to you: Should President Obama drop Joe Biden for Hillary Clinton as his running mate in 2012?
Interested to know which ones made it on air?
Dave in Phoenix writes:
The Democrats should drop Obama for Clinton.
Keith in Tucson, Arizona writes:
I think it would be great. Though I didn't like her too much when she was running against him, once he was the nominee, she did a complete about-face and has supported him since. Her character has been amazing. I would welcome such a ticket.
Patrick writes:
I hope not. Personally, I think Joe Biden is great. He's a working-class guy who possesses a first-class intellect and a keen sense for foreign policy. And as for his gaffes, as Michael Kinsley once said, "a gaffe is when a politician accidentally tells the truth." And after all the pandering and promises from both sides in Washington, I think we could all use a healthy dose of "the truth" these days.
Stan writes:
Jack, What a great idea! Then Hillary can run for president in 2016 and 2020, and then Chelsea Clinton in 2024 and 2028, and then Malia Obama in 2032 and 2036.
Chad in Los Angeles writes:
Recent history has shown having too ambitious of a V.P. can be disastrous for the entire world. Please see Bush-Cheney administrations for reference.
Sarah writes:
Clinton would make a much better candidate for Vice President than Joe Biden, but is that really what is best for our country? Hillary Clinton is one of the best Secretaries of State we have seen in long while. She should keep that job, where she really will be doing good.
Eugene in California writes:
Jack, I don't think it makes much of a difference. I suppose if Hillary became V.P. she might have an easier time with her presidential bid in 2016 but she'll be getting pretty long in the tooth by then.
Brian writes:
I don't care who he picks, he will not be re-elected!
Ben writes:
Not for a minute, Jack. No more than I should drop my cat and go pick up a porcupine.