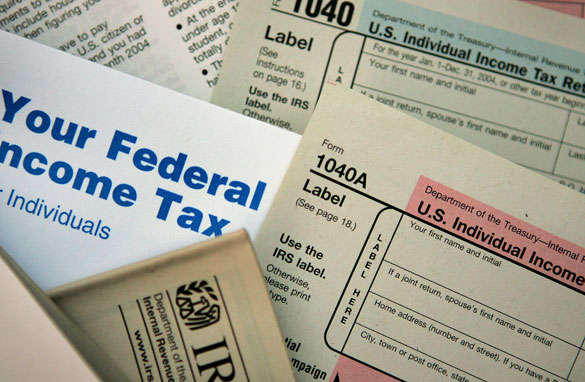 (PHOTO CREDIT: Getty Images)

FROM CNN's Jack Cafferty:
The Bush tax cuts are an 800 pound gorilla – set to expire January 1st. If Congress does nothing, everyone's taxes will go up. And so far, that's what Congress is doing. Nothing. Some of this nation's best economic minds say it's time to bite the bullet and raise taxes. Economically speaking, this country is going down the toilet.
Former Federal Reserve Chairman Alan Greenspan initially supported the Bush tax cuts, but now says that they ought to be allowed to expire.
Greenspan thinks higher taxes might mean slower economic growth, but he says it's more important to pay down our massive debt.
That debt has topped $13 trillion, and our annual deficits are sky high, expected to top $1.4 trillion this year.
David Stockman, the former budget director for Pres. Reagan, along with Former Treasury Secretaries Robert Rubin and Paul O'Neill all agree with Greenspan about higher taxes to some degree.
Pres. Obama only wants the tax cuts to expire for individuals making more than $200,000 and families earning more than $250,000.
But most Republicans are opposed; they want to extend all the tax cuts. And some moderate Democrats agree with them; they're concerned that even Pres. Obama's limited tax increase could hurt the weak economic recovery.
Opinions are all over the place on what should happen, but doing nothing is not a good option – unless the government does something about its runaway spending. Don't hold your breath.
Here's my question to you: In light of skyrocketing deficits, is it time to raise taxes?
Interested to know which ones made it on air?
Tom says:
You are missing the point. It is not as if anyone who actually pays taxes really believes that a tax increase will be used to pay down the debt. Our fine public servants will continue to spend and run up massive debts regardless. Time to say NO!
Robert in Key Largo, Florida says:
A flat tax across the board would be much more fair. Then we could get rid of the IRS.
Jon says:
Your premise is incorrect. Republicans aren't concerned that a "limited tax increase could hurt the weak economy". They're concerned that supporting a tax increase would hurt them in upcoming elections, and that's absolutely the only thing they're worried about. The fact is, the Bush tax cuts along with increased spending for wars, etc., is the road to disaster. This is clear to anyone who's ever balanced a checkbook. It's time to let the tax cuts expire and continue to move away from misguided Republican policies.
Shirley in Arizona says:
No, Jack, it's not time to raise taxes. Americans spend enough money on taxes, ie. state and federal income tax, property tax, sales tax, Social Security tax, vehicle license tax, etc. It's time for Congress to quit spending, quit earmarking, starting wars that aren't funded, and social programs that aren't funded. It's time to bring our soldiers home and freeze ALL federal employees pay. QUIT SPENDING. That's what we do with our budget when we don't have money!!
Terry says:
Stop these wars and billions will be saved. Isn't that simple enough?
Eric says:
Sure, what the hell? I wasn't using my money, anyway. I don't mind working for free. Yeah Jack, you do that... push for a tax hike. That's all Obama needs. Right now, he's but a sweater and a hostage crisis away from officially becoming Jimmy Carter.