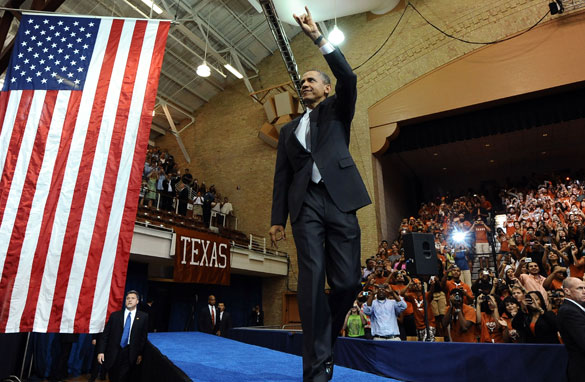 President Obama attended a fundraiser Monday in Austin, Texas. (PHOTO CREDIT: Getty Images/File)

FROM CNN's Jeff Cafferty:
The mid-term elections are shaping up to be an uphill battle for the Democrats.
And here's just one reason why: Presidents who keep their approval rating above 50 percent traditionally see their party lose fewer seats in Congress than presidents with lower approval ratings.
According to Gallup, the average midterm election seat loss for presidents below 50 percent approval is 36 seats in the House of Representatives. That's compared to an average loss of 14 seats for presidents getting higher marks.
The Republicans need to gain 40 seats this year to retake control of the House, which is pretty close to that average of 36 seats.
And none of this is good news for President Obama and the Democrats. Not only is Mr. Obama below the 50 percent mark – but he's approaching 40 percent in some of the polls.
Some Democrats up for election have already figured this out. When President Obama comes into town, they leave.
Just yesterday in Texas, the Democratic candidate for governor, Bill White, was nowhere in sight when Pres. Obama came to Austin and Dallas for fund-raising events.
The week before it was Georgia, where another Democratic candidate for governor, Roy Barnes, decided not to appear with the president.
The White House insists they're not taking it personally, saying it doesn't say anything broadly about the president's coattails... they say there's never been a president who's been wanted by every single candidate around the country to campaign for them. Which is sort of what you'd expect them to say.
Here's my question to you: Why don't some Democratic candidates want to be seen with President Obama?
Interested to know which ones made it on air?