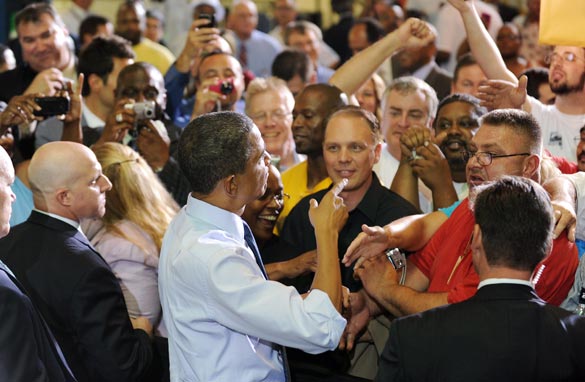 (PHOTO CREDIT: Getty Images)

From CNN's Jack Cafferty
President Obama has been in office just over a year and a half, and he is getting drastically different marks from whites and blacks.
A CNN-Opinion Research Corporation poll shows there is a 56-point difference between blacks and whites when it comes to the president's approval rating.
A whopping 93% of blacks approve of how Pres. Obama is handling his job, but only 37% of whites do.
Pres. Obama is the nation's first black president, and was supposed to move the country past racial divisions… a tall order to be sure. But, yet the president did receive lots of support from whites as a candidate.
Part of the problem may be that critics are painting this Obama White House as out-of-touch with the American people. Nile Gardener of the London Telegraph points to examples like the First Lady's lavish European vacation, the president's move towards big government and dramatic increases in government borrowing and spending.
Gardener points to extravagance and arrogance among "the White house elites that rule America as though they had been handed some divine right to govern with impunity".
Last Friday, the president chose to fly six miles in Marine One to a sign factory in the Washington, D.C. area rather than drive. Six miles. The helicopter ride took about eight minutes…driving would have taken about 20.
Here's my question to you: Why is there a 56-point difference between blacks and whites when it comes to Pres. Obama's approval rating?
Interested to know which ones made it on air?
Rich in Texas says:
Bottom line: Obama is black, therefore most blacks approve. You can call that reverse racism, or maybe it's just pride. Either way, it's blind and naive. He is still to this day not qualified to be chief executive and Commander-in-Chief, and perhaps would never had been elected if not for (1) anti-war and anti-Bush sentiment and (2) the media hype surrounding our first black President. As if that's not bad enough, throw in political hacks like Nancy Pelosi and Harry Reid and we have a truly incompetent combination of so-called leaders. How people can hate Bush so much and think these three stooges are ok is beyond me, just blind partisanship.
Tom says:
Understandable pride and hope I'm sure fuels the black 93% approval. My disapproval is the same with him as most politicians, say one thing when campaigning and business as usual after you get in. I don't disapprove of Obama because he's black, I disapprove because he's just another politician.
James in Ohio says:
What the news media is afraid to say is that whites hate having a black man in the Oval Office.
Blake says:
It is no secret that blacks have always had to work harder, be twice as good in order to gain the same respect and the president is no different. If McCain had won and accomplished all Obama has up to now, he would already have his face on Mt. Rushmore!
Ray says:
What are you trying to do? Start riots in the streets again. I would guess that blacks see him as the second coming and he can do no wrong. Whites gave him a chance and his lack of leadership is really showing through. Way too arrogant for me!
Louis in Front Royal, Virginia says:
Obviously, Jack, if you were black you would know. We're going to see him through his presidency and stick by him. He's doing better than the prior person who held the position.
K.C. says:
Racial conflicts in this country are like crashes at a NASCAR race. Everyone expects one, but no one will admit they are waiting to see one happen.