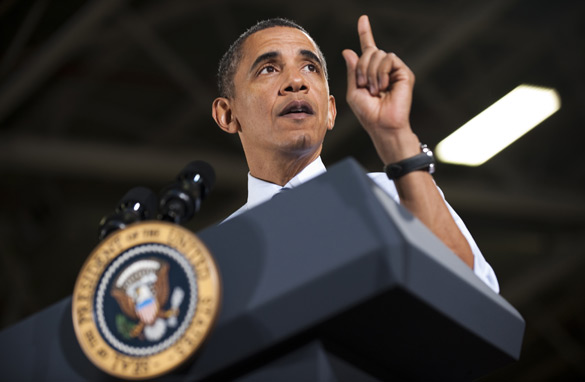 (PHOTO CREDIT: Getty Images)

FROM CNN's Jack Cafferty:
President Obama promised us the "most transparent" administration in history, but there are growing signs that it's just business as usual in Washington.
Politico.com reports that four times in the last week, the president has quietly attended private and exclusive Democratic Party fund-raisers – all closed to the press.
These events are for the fat cats – big donors, sometimes paying as much as $30,000 to attend. They're held at fancy hotels or at the homes of wealthy supporters.
The White House claims the president had nothing "formal" to say at these small fund-raisers so there was no need to have reporters on hand. They say the rule is if the president makes a speech or formal remarks, the event is open to the press.
But the president is clearly talking to donors at these events. One Democratic source tells Politico that at such a fund-raiser, the president will typically give a brief address to the group, then he might spend about an hour speaking one-on-one, or in small groups, with supporters.
Critics say this is an example of the president backtracking on his promise for openness. And journalists have also tried to get access to these events, with no luck.
You may recall it was at a private fund-raiser in San Francisco that then candidate-Obama was overheard telling donors that working-class people hurt by the economy "get bitter" and "cling to guns or religion." After that firestorm, Obama's campaign said it would allow more press into similar events.
But at least four times in the last week it doesn't seem to be happening.
Here's my question to you: Pres. Obama promised us the most transparent presidency in history. Is he keeping his word?
Interested to know which ones made it on air?
Craig in Florida says:
Obama's promise of 'transparency' should go into the same trash bin as Pelosi's promise of the "most ethical Congress in history". Both were made to capture votes and both were abandoned the first time it became necessary to expedite a political goal!
Venu says:
A man born out of Chicago-style politics isn't being transparent? Why does this shock anyone? Obama doesn't need to be transparent. The press gives him a free pass, and anyone who challenges him gets hit with the racist card.
Tony in New York says:
The kind of transparency that counts is regarding policy decisions, and in that regard, he has been far more transparent than any of his predecessors. There's a big difference between pressing the flesh at a private event to raise campaign funds (which are subject to federal campaign disclosure laws, so we, in fact, know who gave money), and calling in oil companies in secret to set energy policy the way Dick Cheney did.
Remie says:
As an Obama supporter, I am disappointed that there is still secrecy involved in fundraising. This is exactly what voters want up front. Many Americans want to know and should know who OWNS the president and who OWNS the Congress and Senate. If we're going to have an oligarchy, let us at least know what corporations own the national government. I think it's a small favor to ask.
Dan in Virginia says:
He wins this argument on semantics. What everyone wants is a transparent administration. What everyone got is another secretive one, albeit "more" transparent than the previous 42.
Luis in Purdue, Indiana says:
I believe he is, Jack. C'mon now, no president will ever be completely transparent. It's not in the nature of the job. The fact of the matter is, when we chose Obama, we chose a very different presidential philosophy. He's shown us a very different way of addressing his position and Washington in general. Mission accomplished.