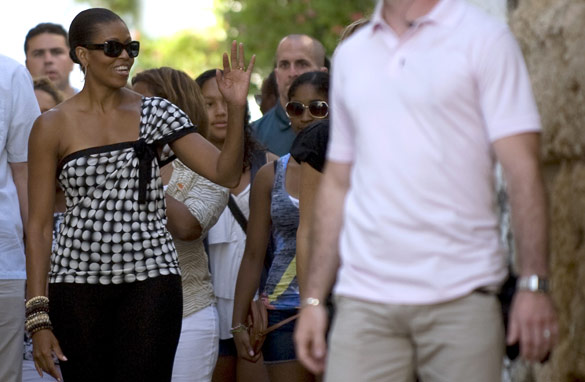 (PHOTO CREDIT: Getty Images)

FROM CNN's Jack Cafferty:
The U.S. economy, with nearly 10% unemployment, has millions of Americans struggling to make ends meet – but you might not know it by watching the First Lady.
Michelle Obama, her youngest daughter, Sasha, and several of the First Lady's "closest friends" are on a glitzy vacation in Spain. They're staying on the southern Mediterranean coast with friends at a luxury hotel.
The resort in Marbella on the Costa del Sol is a playground for the rich and famous... including members of the Saudi Royal family, Spain's jet-setting crowd and Hollywood actors.
The First Lady and her pals are expected to take up 60 to 70 rooms, or more than a third of the whole resort, where prices start at about $400 a night and reportedly go up to $2,500 a night.
A piece in The New York Daily News compares quote "Material girl Michelle Obama [to] a modern-day Marie Antoinette" staying in the lap of luxury and not exactly cutting back in troubled times.
The taxpayers are paying for transportation and housing of an estimated 70 Secret Service agents who will accompany Mrs. Obama, not to mention the cost of Air Force Two.
The Daily News suggests that while the Obamas like to portray themselves as common folk, it doesn't really jibe with what we're seeing. The piece suggests a vacation on the coast of California where money would have pumped into the local economy might have been a more politically astute idea.
Michelle Obama's lavish trip comes at a time when 8 in 10 Americans describe economic conditions as "poor" and the "economy" is overwhelmingly cited as the top problem facing the U.S. today.
Here's my question to you: What message does it send when the First Lady takes a glitzy vacation to Spain given the current economic climate?
Interested to know which ones made it on air?
Rhoda in Scottsdale, Arizona says:
I think it is a slap in the face to all who are unemployed, those living on unemployment, those struggling to make ends meet by working several small jobs and those who have lost their retirement. There are many wonderful places in the United States that would be fun for the children and relaxing for her. What is Camp David for?
B.J. in Quincy, Illinois says:
Very bad taste.
Jeff in Peoria, Illinois says:
Who does this woman think she is? The queen of America? A record 40.5 million people on food stamps in this country, Gulf Coast beaches deserted and our tax dollars are going to Spain. Sickening!
Jim in Cripple Creek, Colorado says:
Even if she stayed home and washed all the windows of the White House, the right wing would still whine and moan. Go on, Mrs. Obama, have a good time.
Mike in Phoenix says:
Here's a great place to take a vacation. If you like fresh air, woods, etc., try Greer, Arizona and the Red Setter Inn or the Little American Inn in Flagstaff, Arizona. At least keep the money here, not over there.
Steve in Concord, California says:
It sends a message of how privileged the privileged few are. What happened to Mrs. Obama's fiscal conservatism when she first came to live in Washington D.C.? I guess it's no longer a case of keeping up with the Joneses, but it is all about keeping up with the Obamas, and at this time, hardly anyone in the United States can.
John in Greensboro, North Carolina says:
No message at all. The Obama's are self-made millionaires living out the American dream. They can vacation where they want. Aside from transportation and security, the First Lady probably has to pay for the rest of the trip just like any other government employee…Spain is a wonderful country who also needs an economic boost and having the First Lady go there couldn't hurt.
Riley says:
That's the same kind of mistake the Clintons made having that fancy wedding last weekend. And when Obama and Clinton run again, it will become an issue.
Audrey says:
You know, Jack, my husband thinks you are always right but even he said this was beneath you. Big time.