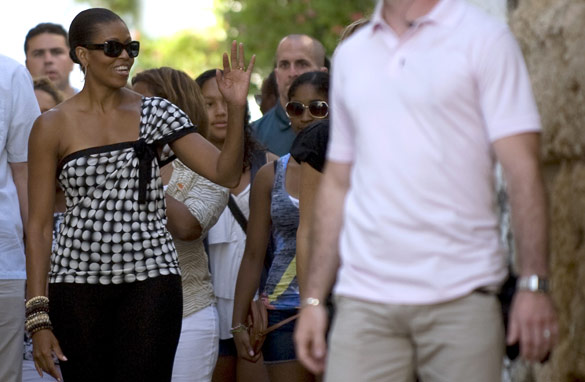 (PHOTO CREDIT: Getty Images)

FROM CNN's Jack Cafferty:
The U.S. economy, with nearly 10% unemployment, has millions of Americans struggling to make ends meet – but you might not know it by watching the First Lady.
Michelle Obama, her youngest daughter, Sasha, and several of the First Lady's "closest friends" are on a glitzy vacation in Spain. They're staying on the southern Mediterranean coast with friends at a luxury hotel.
The resort in Marbella on the Costa del Sol is a playground for the rich and famous... including members of the Saudi Royal family, Spain's jet-setting crowd and Hollywood actors.
The First Lady and her pals are expected to take up 60 to 70 rooms, or more than a third of the whole resort, where prices start at about $400 a night and reportedly go up to $2,500 a night.
A piece in The New York Daily News compares quote "Material girl Michelle Obama [to] a modern-day Marie Antoinette" staying in the lap of luxury and not exactly cutting back in troubled times.
The taxpayers are paying for transportation and housing of an estimated 70 Secret Service agents who will accompany Mrs. Obama, not to mention the cost of Air Force Two.
The Daily News suggests that while the Obamas like to portray themselves as common folk, it doesn't really jibe with what we're seeing. The piece suggests a vacation on the coast of California where money would have pumped into the local economy might have been a more politically astute idea.
Michelle Obama's lavish trip comes at a time when 8 in 10 Americans describe economic conditions as "poor" and the "economy" is overwhelmingly cited as the top problem facing the U.S. today.
Here's my question to you: What message does it send when the First Lady takes a glitzy vacation to Spain given the current economic climate?
Interested to know which ones made it on air?