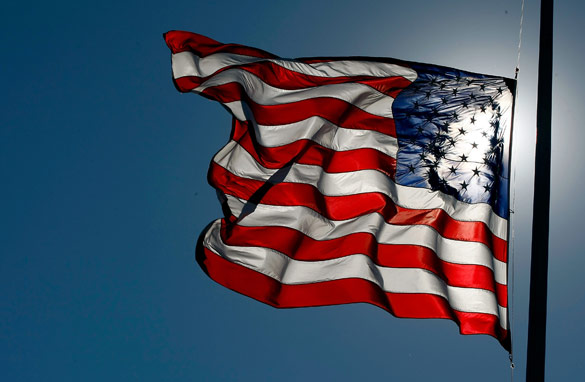 (PHOTO CREDIT: GETTY IMAGES)

FROM CNN's Jack Cafferty:
The first one started with the Boston Tea Party. More than 230 years later, some think the time is ripe for a second American revolution.
An editorial in "Investors Business Daily" suggests people are now asking if the government does more harm than good—and if we should change what it does and the way it does it.
Much of the blame is laid on what it calls the "imperial presidency." It says that through his policies – like record spending and deficits, taxes, health care, etc. -President Obama is "diminishing America from within".
And there are growing signs that many Americans have had a bellyful of President Obama's policies.
Start with health care. 71 percent of Missouri voters supported a measure that would forbid the federal government from penalizing people who don't buy health insurance as mandated under President Obama's health care law.
And it's not just Missouri. Five states have passed similar bills, and two other states will have constitutional amendments on their November ballots to opt out of all, or part of, the new health care law.
There's immigration, which one day may be seen as the turning point in this struggle. While the federal government refuses to enforce the nation's immigration laws and refuses to secure our borders – it's going after Arizona in court for trying to protect its own citizens from an invasion of illegal aliens.
One Arizona sheriff says the federal government "has become our enemy and is taking us to court at a time when we need help." A Mexican drug cartel has reportedly offered $1 million to kill another Arizona sheriff, the controversial Joe Arpaio.
Things are getting very ugly. No surprise the president's approval ratings continue to decline. In some of the major polls, it's now approaching 40 percent.
Here's my question to you: Is a second American revolution coming?
Interested to know which ones made it on air?
Frank says:
A revolution against a government only makes sense if that government is a static one. Even if the public is displeased with the Obama administration's policies, what would be the point of revolting against it when it can simply be voted out at the end of its first term? I do not mean to insult you or anyone else, but thinking people should not - and I hope will not - take a question such as this one seriously.
Ray says:
I would suggest that odds are better than 50-50 for just such a revolution, Jack. To those who read and understood Atlas Shrugged, we certainly have a collectivist POTUS at this moment in history. Once interest rates begin to rise, and the pinch that even the CBO has said it ahead of us takes effect, you can bet that the "motors of our society" will begin to strike. That will precipitate the final act of the new revolution, if I read the tea leaves correctly.
C. says:
In a word, no. Contrary to the Tea Party's fantasies, this country is too diverse; demographically, culturally, economically and politically for that type of movement to take an actionable hold. Everyone seems to forget that for every Tea Party devotee, there are exponentially more of us who are not… Revolution no, ideological separation, always.
Joe says:
Are you nuts? Two years ago we were talking about the Bush imperial presidency, and how right-wing deregulation had ruined the country and helped dissolve our trust in government. Now as we start to swing back the other way, you've lost faith so quickly? Would you rather go back to Bush? Was the financial situation better in '98 under Clinton or 2008 under Bush? No elected official can affect that much change in 2 years.
Riley says:
No revolution coming. The new T.V. season starts soon, then we have the winter reruns, just too much to do to make things better.