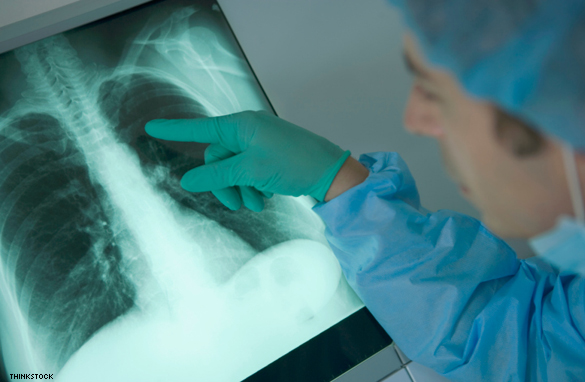 (PHOTO CREDIT: THINKSTOCK)
FROM CNN's Jack Cafferty:
A sprawling bureaucratic giant - nobody knows how big it will be. That seems to be the result of President Obama's new health care law.
According to Politico, a recent report says it's "impossible" to estimate the number of agencies, boards and commissions created by the new law.
The Congressional Research Service report points to many reasons for this. First off, the parts of the law that create new bodies vary drastically. In some cases – the law gives lots of details... in other cases, barely a mention.
Also, the law authorizes some new entities... without saying who will do the appointing, or when it will happen.
And all this means some agencies could wait indefinitely for staff and funding... while others could multiply... creating quote "an indeterminate number of new organizations."
So far this is shaping up to be exactly what the critics were afraid it would be.
For example, there's one provision in the health care law that requires six separate agencies - six - within Health and Human Services to each establish an Office of Minority Health.
One Alaska health task force was supposed to meet by May 7... it held its first meeting July 16. Another committee on breast cancer was supposed to be set up by May 22. It's August 3 and it's still reviewing nominations for committee members.
There are also questions about the ability of Congress to carry out oversight of this sprawling mess. And there are concerns about the the number of appointments the General Accounting Office gets to make - at least 83 new members to six new boards.
Here's my question to you: How will the government manage our health care if it's "impossible" to know the number of agencies, boards and commissions created by the new health care law?
Interested to know which ones made it on air?
David in Alexandria, Virginia writes:
From the people who can't manage the 93 intelligence agencies and the Medicare/Social Security mess they have now comes Obama Care. The only thing that will be more mysterious will be the dozens of new financial control agencies. This is not big government, it is morbidly obese government. And, like the obese person sitting next to you on the plane, it will flow freely into every nook and cranny of your space.
John in Pennsylvania writes:
Health care reform. Wow, what a good idea. Before retiring in April, I paid $194 per month for my wife and myself. Now it's $1,100 per month for the same coverage because I have COBRA and live in Penn. If I could shop in other states, I could get the same for $484 per month. If I did not take COBRA, I would be paying $2,100 per month. Thanks, Mr. Obama.
Bob in Kansas City writes:
They won't, as you say, "manage" it. Before long, it will be a cesspool of corruption and fraud, ala Medicare. And it won't reduce the cost one cent.
Chris in the Bronx, New York writes:
Jack, The law is about 3 months old. PLEASE! The real impact of the bill won't be felt until 2014 when the exchanges are up and running. Stop trying to simplify and dumb down a complex idea, and subject, that is the healthcare system.
Greg in Tennessee writes:
The solution is a Health Care Oversight Czar heading a Commission which will undoubtedly recommend an Oversight Department and probably an Oversight Inspector General. That way they'll be able to determine the number of agencies, boards, and commissions created by the new health care law.
Dennis writes:
Jack, Did you honestly think this would magically happen immediately? Something of this magnitude will take time to work out.
Julie in Louisiana writes:
No surprise, Jack. They will call it job creation.