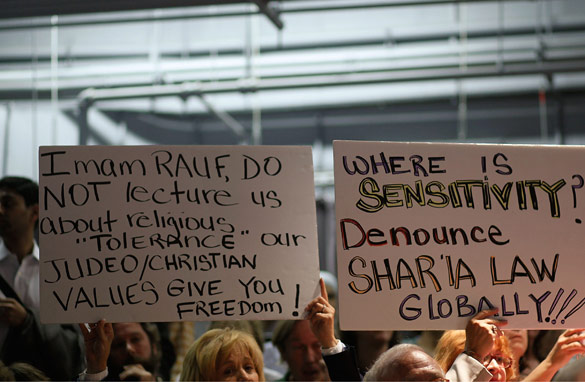 Opponents of a proposed Islamic cultural center near Ground Zero attend a community board meeting to debate the issue in lower Manhattan. The site is so close to the location of the 9/11 terror attacks that debris from one of the hijacked planes smashed through the roof of the existing building there. (PHOTO CREDIT: GETTY IMAGES)
FROM CNN's Jack Cafferty:
The debate over a proposed mosque near Ground Zero keeps heating up.
New York Mayor Michael Bloomberg is now firing back at Sarah Palin, who called on New Yorkers to "refudiate" - her very own made-up word - the planned mosque only blocks away from the site of the 9/11 terror attacks.
Palin called it an "unnecessary provocation" that "stabs hearts."
Bloomberg says Palin has a right to her opinions, but that he couldn't disagree more, adding: "Everything the United States stands for and New York stands for is tolerance and openness."
But even before Palin decided to step into this one - the issue has stirred lots of controversy and passion here in New York. Some relatives of 9/11 victims say it would be like a monument for terrorists... or a "sacrilege on sacred ground."
And local Republican politicians are calling for an investigation on how the center would be financed... they're also raising questions about the views of its leader. Opponents are hoping to get the city's landmarks commission to protect the current structure thereby blocking the mosque project from going forward.
But supporters insist the mosque would represent the voice of moderate Muslims. They say it's meant to improve relations between Islam and the West, and add that the location - only steps away from Ground Zero - shows how important religious freedom is in the U.S.
Some 9/11 families also support the mosque, saying there's no better symbol of tolerance and inclusion.
Besides a mosque, the proposed $100 million community center would stand 13 stories tall and include a gym, swimming pool and performing space which would be open to anyone.
Here's my question to you: Is it a good idea to build a mosque near Ground Zero?
Interested to know which ones made it on air?
Andy in Massachusetts writes:
Hell no. I'm kind of an Old Testament guy on this issue: eyes for an eye and teeth for a tooth. I haven't seen enough eyes or teeth yet. Radical Muslim eyes and teeth.
Darren in Minneapolis writes:
In a country that promotes and celebrates tolerance, freedom and diversity, I really don't understand what the problem is, Jack. I want to know how big a Muslim-free buffer around Ground Zero needs to be in order to make opponents of the mosque happy? How far away should the Mosque be? 20 blocks? 20 miles? Muslims didn't attack us on 9/11 - Terrorists did. Comparing all Muslims to terrorists is just like comparing all Christians to Timothy McVeigh. The prejudice being displayed here proves that the terrorists have won - we've abandoned our principles.
Bill writes:
Politically no, the wounds are still open and Americans are still hurting from the senseless attacks on our citizens. Ground Zero is sort of like the Alamo of the new age. It has almost, if not, achieved, the status of shrine. So this is no different than building a Christian Church near a Muslim holy site.
Jeff in Minnesota writes:
All this points out to the Muslim radicals is that the war on terror is just what they claim it is: a war on the Muslim religion. Pres. Bush made it very clear from the start that it was radical fundamentalist Muslims that were the problem. We seem to have forgotten that fact. All religions have done terrible things throughout history, yet we don't see protests against them or where they build their churches. Muslims are not the problem. Radical fundamentalism is the problem, Muslim, Catholic or any other religion.
Kim in Dodge City, Kansas writes:
Even though our country is in the death grip of "political correctness," this is probably one of the worst things to do. If the mosque is built, it will forever be an irritant and a flashpoint for violence and mayhem. A moderate Muslim is a totally fictional character. By choosing to follow their belief, they are sanctioning death to all those who embrace any other so-called religion.
T. in Flemington, New Jersey writes:
As a Jewish American, I'm disgusted with right-wingers who always equate "Muslim" with "terrorism." Islam didn't bring down the towers! Tell the Half Governor she doesn't know what she's talking about, yet again.