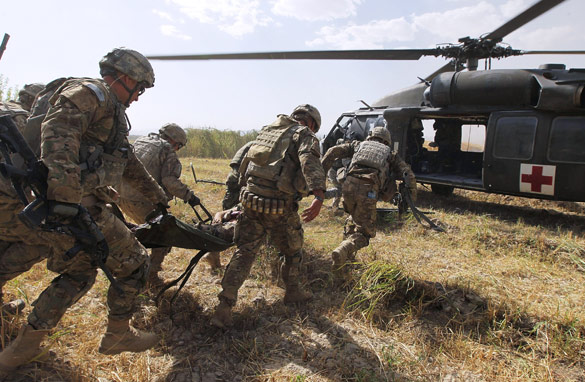 U.S. troops carry a wounded Afghan National Army soldier to a U.S. Army MEDEVAC helicopter in Qandahar, Afghanistan. (PHOTO CREDIT: Justin Sullivan/GETTY IMAGES)
FROM CNN's Jack Cafferty:
Nearly nine years into the war in Afghanistan... and it seems there are more questions than ever about what exactly the U.S. is doing over there.
Secretary of State Hillary Clinton is in Afghanistan to lead the American delegation to the Kabul Conference.
The Afghan government is supposed to talk at this international meeting about how it will tackle a deteriorating security situation and crack down on corruption.
But even as the U.S. has added tens of thousands of troops to Afghanistan - last month was the deadliest since the start of the war for international forces. 103 coalition troops were killed, and militants keep attacking every day.
The Obama administration says it will review its Afghan strategy later this year; but there are growing concerns from all corners about where we're headed.
Democratic Senator John Kerry says it's not clear the administration has a solid strategy; and Republican Senator Richard Lugar is criticizing "a lack of clarity" about U.S. goals in Afghanistan. Even the administration's point man for Afghanistan and Pakistan - Richard Holbrooke - acknowledges things are not working out as planned.
Meanwhile a record number of U.S. soldiers killed themselves last month. The Army says 32 soldiers committed suicide in June - the highest in any month since the Vietnam War. Seven of those soldiers were on active duty in Iraq and Afghanistan.
Army officials say they're not sure what's behind the spike in suicides.
The U.S. is approaching insolvency, yet we continue to pour hundreds of billions of dollars into a nine-year-old war, and no one seems to have a real good explanation of why we continue.
Here's my question to you: Is the war in Afghanistan really worth it?
Interested to know which ones made it on air?
Darren in Minneapolis writes:
Not anymore, Jack. When we first when into Afghanistan, our objective was to remove the Taliban and capture Osama bin Laden. I was under the impression that we accomplished the 1st part, created a democratic government and installed President Karzai. Well, that hasn't worked. We were sidetracked by Iraq, and now the Karzai government is in disarray, the Taliban is back, and Pakistani Al-Qaeda insurgents are wreaking havoc on the country. On top of that, we still don't have Bin Laden. It's time to cut our losses. We bungled this - badly.
Scott in California writes:
We don't have a choice. We got into this war to prevent future terror attacks from taking place. Leaving it as is now would lead to the same problems that gave us 9/11 in the first place.
Dave writes:
Jack, This whole extension of the previous administration's war is an exercise in futility. Why not bring our troops home and go back to the old days of having the CIA take out our enemies? It sure would save lots of money. Fighting in Afghanistan bankrupts all who try.
Cameron writes:
This is a long-term commitment the U.S.-made under the Bush administration and if we back out now the only outcome it will guarantee is more enemies. The question isn't whether or not it was a wise decision in the first place, the question is what position will we be putting ourselves in if we withdraw, with a job half-done, leaving a community in higher disarray than when we entered. Don't we already have enough enemies in that area?
Gary in Woodhaven, Michigan writes:
Two decades after my return home as a Marine combat veteran from Vietnam, I spent every day with my gut wrenched and choking back tears while trying to hide within a bottle of whiskey. All the while trying to find the answer to "why?" I never found that answer, and in my sobriety realized there is no answer to why when it comes to ideological wars. I pray that hundreds of thousands of soldiers from Iraq and Afghanistan realize and accept long before I did and without the hardships that in their ideological war there can never be an answer to why. Only in a war based on virtue can "why" ever be answered.