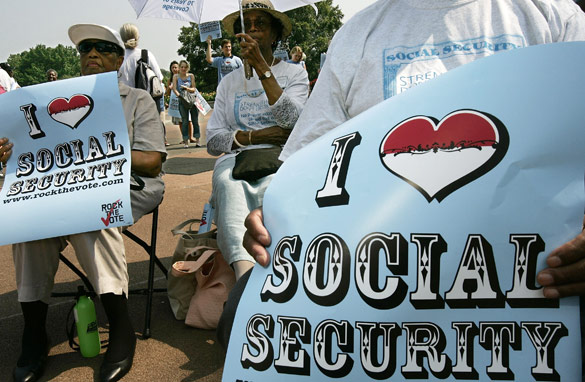 (PHOTO CREDIT: GETTY IMAGES)
FROM CNN's Jack Cafferty:
If you like your job, better hold onto it because Congress is thinking about raising the retirement age.
As lawmakers run out of options on how to pay for Social Security, the Washington Times reports how top Democrats and Republicans have been making unusually frank comments on the topic. Usually, politicians talk in generalities about cutting the deficit, and most other things. It's what they do best.
But it seems the flashing warning signs of our skyrocketing and unsustainable deficits have finally gotten their attention.
And now they're getting down to business - with party leaders saying that with people living longer and in better health - the nation can't afford to keep paying out benefits for as long as 30 years after people retire.
House Minority Leader John Boehner suggests raising the retirement age for full Social Security benefits to 70... for those who are now 50 or younger.
Boehner also says we should provide benefits only to those who need them. He says with the government broke, it shouldn't be paying benefits to those who have substantial income from other sources while they're retired.
House Majority Leader Steny Hoyer also talks about raising the retirement age... and providing benefits primarily to the poor.
Government watchdog groups are impressed at how serious both parties seem to be about fixing Social Security. They say leaders now realize that Social Security - which was long considered the "third rail" of politics - is now the "low hanging fruit," meaning it's one of the easier budget problems to fix.
All this comes as many European countries are moving toward raising retirement ages to fix their budget crisis.
Currently, Americans can start collecting Social Security benefits as early as 62.
Here's my question to you: Is it time for Congress to raise the retirement age?
Interested to know which ones made it on air?
John in Lake Charles, Louisiana writes:
Forget the retirement age. Drop the cap on Social Security taxes and raise the percentage people and employers have to pay.
Mack in Michigan writes:
I'm sure the Republicans would prefer to just kill the poor and working class when they're 61 but this will have to do until they regain the House and Senate.
Ed in Port Jefferson, New York writes:
This is a likely candidate to be put successfully through Congress during its lame duck session.
Gary in Michigan writes:
Yes, the age should be raised. It is documented that with the advancements in stem cell research and other technology that in 20 years the average life span will be 110 years old. It is only common sense to adjust any program to fit the realities of the day.
Jeannie writes:
Jack, I have no problem with raising the retirement age - we are all living so much longer, it only makes sense. However, the Social Security fund is full of MY money and I should still be permitted to live off its benefits.
Greg in Ontario writes:
Who the hell gets to retire these days? Politicians, doctors and the few people we say are celebrities. Everyone else works until they drop.
Steve writes:
Social Security was started with the knowledge most people would not live to an age to get it. They are just screwing us again.
Shaun in Las Vegas writes:
Jack, I hope the retirement age goes up to 100, so we can see you on the Situation Room for decades to come.