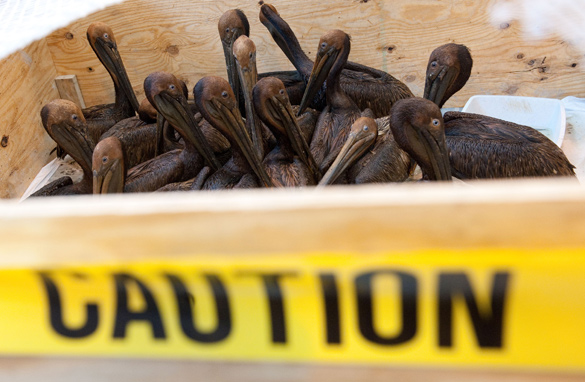 Oil covered brown pelicans found off the Louisiana coast wait in a holding pen for cleaning at the Fort Jackson Oiled Wildlife Rehabilitation Center. (PHOTO CREDIT: SAUL LOEB/AFP/GETTY IMAGES)
FROM CNN's Jack Cafferty:
There are thousands of oil wells under the ocean. We have seen the effects of one going terribly wrong.
The economy of the Gulf Coast decimated… the fishing and tourism industries crushed.
If the administration's moratorium on offshore drilling is upheld by the courts this time around, thousands of additional people will lose their jobs in an economy already overrun with folks who can't find work.
Drilling for oil at these depths is risky at best and can be disastrous at worst - as we have seen.
But we need the oil… because for almost 40 years, since the Arab Oil Embargo of 1973, this country has failed to develop a coherent energy policy.
We just keep whistling past the graveyard of dependence on the Middle East and deep water drilling… waiting for the next crisis… whether it's another blown well, ruptured pipeline, or war in the Middle East that will interrupt the flow of oil and drive prices through the ceiling.
And it's not a question of whether there will be another crisis… it's a question of when the next one comes and how serious it will be.
But just like with so many of the other challenges confronting our country, the government and by extension we, the people seem content to live in a world of denial… unwilling to make the tough decisions necessary to make our energy future safer and more secure.
Here's my question to you: How should the Gulf oil spill affect this country's energy policy going forward?
Interested to know which ones made it on air?
Gary (who is retired from Texaco) writes:
My opinion is, not at all. The Gulf is where the oil is. One mistake, probably because of somebody's cost saving idea on the rig, overrode safety which caused it to happen and can never be allowed again. This has been a "wake-up call" for everybody - the government and the oil companies alike. To abandon oil drilling in the Gulf is to defeat America's attempt at energy independence. Off shore drilling simply needs to be done with more attention to procedures by all parties involved - simple as that.
Cel writes:
We should consider the spill as divine intervention. We are oil addicts who need to begin taking the methadone of green energy.
Richard in San Clemente, California writes:
Jack, Even without the oil disaster the country should be going full steam ahead to get ourselves off oil. Will we do any better now that we've had the disaster? Are the oil company stooges in Congress still there? There will be no change that the oil companies do not want.
Karl in San Francisco writes:
It should be the shot heard 'round the world. Historically, oil came from wells drilled in God-forsaken places we never heard of or could pronounce the name of and their rulers all wore robes and turbans and owned 100 Rolls Royces, each. Gas was 25 cents a gallon. Now, thanks to shortsighted thinking, we are drilling in places that never should be considered safe to drill, obviously.
Andrew in Amherst, New York writes:
Two things should come from this. One, we should be less dependent on oil as a nation and two this should prove the need to drastically increase our hydro and nuclear power supplies! I mean even the French get something like 80% of their power from nuclear plants, and they're the French!