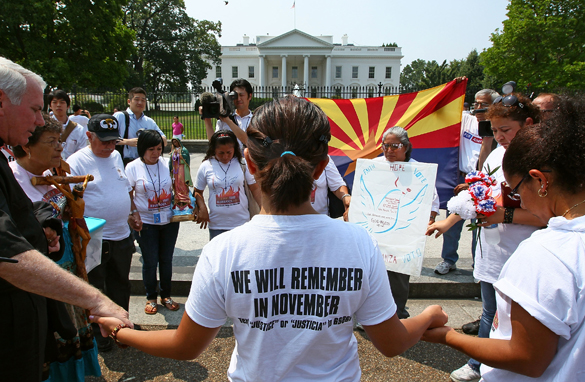 Activists participate in a 24-hour vigil outside the White House to protest the imminent new immigration law in Arizona. (PHOTO CREDIT: GETTY IMAGES)
FROM CNN's Jack Cafferty:
It's unlikely the federal government will do anything meaningful anytime soon about immigration; but that hasn't stopped them from suing Arizona for actually tackling this crisis.
The Justice Department lawsuit charges that the Arizona law cracking down on illegal immigrants is unconstitutional.
The federal government says that the state's immigration law conflicts with the federal law - that it would disrupt immigration enforcement and violate the rights of innocent Americans and legal residents.
Arizona's governor, Jan Brewer, calls the lawsuit "nothing more than a massive waste of taxpayer funds," saying the money could be better used against violent Mexican drug cartels. And she has a point.
Meanwhile despite President Obama's repeated calls for bipartisan immigration reform, senior Democrats say they see virtually no chance of Congress taking up such a bill before the midterm elections. No surprise here - wouldn't want to toss around a political hot potato and vote on tough issues before an election.
And - while the federal government twiddles its thumbs, the cost keeps piling up on us, the taxpayers.
A new study claims that harboring an estimated 13 million illegal aliens is costing $113 billion a year. That translates to about $1,100 for every "native headed" household in America.
The report - conducted by an outfit called the Federation for American Immigration Reform - shows the most money goes toward schooling the children of illegal aliens.
Critics describe the group - which aims to end almost all immigration to the U.S. - as "extremist" and they say the report is inaccurate.
Here's my question to you: Why is the federal government suing Arizona instead of enforcing its own laws against illegal immigration?
Interested to know which ones made it on air?
Glenn in Williamstown, New Jersey writes:
I believe it's because Obama and many on the left openly support illegal immigration and want amnesty as it will guarantee them more votes should illegal aliens become citizens. If they really opposed states interfering with immigration laws, then you have to wonder why aren't they suing sanctuary cities and states.
Kathy writes:
I'll tell you why they are suing Arizona: "Egg On The Face" syndrome. They are embarrassed that a state is taking the lead and trying to solve a problem that Washington, both Democrat and Republican, has been unwilling to solve. When will enough be enough? Secure our borders and go after the companies hiring illegals. Without jobs, the problem will be solved! It's that simple.
Texan writes:
Because those 11-20 million illegal aliens have probably parented 3-4 times that many "citizens" (aka anchor babies) and the Democrats figure that by ignoring the real citizens of America, they can buy all these future votes.
Sandra writes:
Because they are focusing on perceived problems with racism rather than on real problems. I would have thought that our Justice Department and our president would have learned the definition of illegal in law school. Do we enforce laws or do we tolerate and turn a blind eye to illegal immigration and the problems it creates? I guess we just create a sideshow by suing a state which is trying to do something.
Talitha in Walnut, California writes:
Jack, We all know that this administration is no different than the previous one. It is all about "cheap labor." This administration is telling the American citizens to "GO STRAIGHT TO HELL", we don't care about you. They are saying, "yes" we know that they have broken the law when they crossed our borders but, "we don't care".
Dave writes:
Obama is pandering to a key constituency that he needs votes from in November and wants to lock them and their legal children up as Democrats for a generation. Simple math. In the meantime, Rome burns.