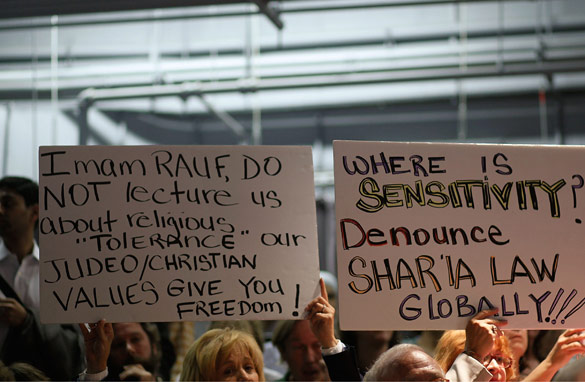 Opponents of a proposed Islamic cultural center near Ground Zero attend a community board meeting to debate the issue in lower Manhattan. The site is so close to the location of the 9/11 terror attacks that debris from one of the hijacked planes smashed through the roof of the existing building there. (PHOTO CREDIT: GETTY IMAGES)
FROM CNN's Jack Cafferty:
The debate over a proposed mosque near Ground Zero keeps heating up.
New York Mayor Michael Bloomberg is now firing back at Sarah Palin, who called on New Yorkers to "refudiate" - her very own made-up word - the planned mosque only blocks away from the site of the 9/11 terror attacks.
Palin called it an "unnecessary provocation" that "stabs hearts."
Bloomberg says Palin has a right to her opinions, but that he couldn't disagree more, adding: "Everything the United States stands for and New York stands for is tolerance and openness."
But even before Palin decided to step into this one - the issue has stirred lots of controversy and passion here in New York. Some relatives of 9/11 victims say it would be like a monument for terrorists... or a "sacrilege on sacred ground."
And local Republican politicians are calling for an investigation on how the center would be financed... they're also raising questions about the views of its leader. Opponents are hoping to get the city's landmarks commission to protect the current structure thereby blocking the mosque project from going forward.
But supporters insist the mosque would represent the voice of moderate Muslims. They say it's meant to improve relations between Islam and the West, and add that the location - only steps away from Ground Zero - shows how important religious freedom is in the U.S.
Some 9/11 families also support the mosque, saying there's no better symbol of tolerance and inclusion.
Besides a mosque, the proposed $100 million community center would stand 13 stories tall and include a gym, swimming pool and performing space which would be open to anyone.
Here's my question to you: Is it a good idea to build a mosque near Ground Zero?
Interested to know which ones made it on air?