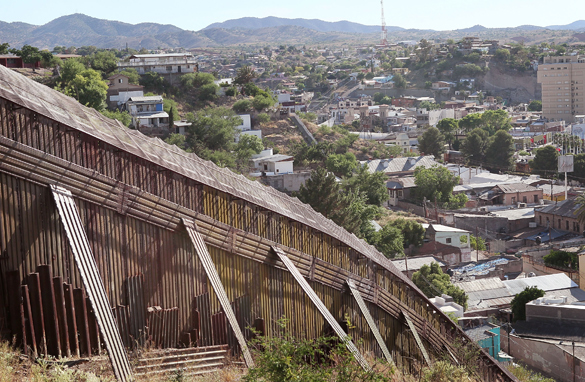 A fence separates the cities of Nogales, Arizona and Nogales, Sonora Mexico. (PHOTO CREDIT: GETTY IMAGES)
FROM CNN's Jack Cafferty:
Don't expect too much when President Obama delivers a speech about immigration reform tomorrow.
Officials say he won't introduce any new policy initiatives and won't announce whether the federal government has decided to sue Arizona.
Instead expect more of the same, which is nothing. Homeland Security chief, Janet Napolitano, recently said "you're never going to totally seal the border with Mexico."
She said it's a big border with some of the "roughest, toughest geographical terrain in the world." And she insists the border is "as secure now as it has ever been."
The governors of Arizona and Texas are criticizing the Obama administration for not deploying enough National Guard troops to their states... Arizona is getting just 524. And Texas is getting 250 as part of a total increase of 1,200. Arizona governor Jan Brewer had asked for 3,000 troops just for Arizona.
Meanwhile the president has been quietly moving forward on immigration reform - meeting with grass-roots leaders this week, talking about the need for a bipartisan solution and saying true border security requires comprehensive immigration reform. Same old, same old.
But most Americans want their border secured before there is any talk of a pathway to citizenship, or amnesty. A new CNN/Opinion Research Corporation poll shows 60 percent of those polled say the focus of U.S. policy should be deporting illegal aliens and stopping more from coming into the country.
But these days what most Americans want doesn't seem to matter.
Here's my question to you: Can immigration reform be done without first sealing the border?
Tune in to the Situation Room at 5pm to see if Jack reads your answer on air.
And, we love to know where you're writing from, so please include your city and state with your comment.