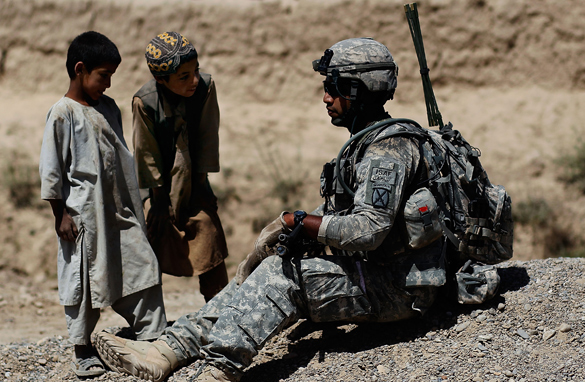 (PHOTO CREDIT: GETTY IMAGES)
FROM CNN's Jack Cafferty:
The spotlight is back on the war in Afghanistan. Big time.
In the wake of the very public dismissal of General Stanley McChrystal and renewed talk of a withdrawal date - there's lots of debate over what is now this country's longest war.
And it isn't pretty.
As the U.S. continues to escalate troop levels, top officials are warning of a long road ahead.
CIA Director Leon Panetta says the Afghanistan war has "serious problems." He says progress is being made, but the fight is harder and slower than anyone anticipated. Panetta cites problems with the government, corruption, drug trafficking and the Taliban insurgency.
Speaking of corruption, The Wall Street Journal reports American investigators believe top Afghan officials have been flying more than $3 billion in U.S. aid and drug money to financial havens for 3 years.
That would be our tax dollars.
The Journal says President Hamid Karzai's brother, long suspected of being deeply involved in Afghanistan's drug trade, is one of the officials in question. What are we doing?
President Obama has said U.S. troops would start pulling out in July 2011... although he seems to be hedging on that lately.
Former Secretary of State Henry Kissinger is warning the U.S. exit strategy "provides a mechanism for failure." He says the public needs to be prepared for a long struggle.
Here's my question to you: Is success possible in Afghanistan?
Interested to know which ones made it on air?
Joe in Brigantine, New Jersey writes:
Let's think about it: the Afghan administration is corrupt and moving our money into their overseas bank accounts, the nation is a loosely connected group of tribes which must affect the formation and training of a national army. The dominant religion is one that is determined to keep the nation living in the thirteenth century.
Jeff writes:
Although Afghanistan has been the graveyard of empires, the U.S. can still "win". We need to realize that this is more about building a new nation than fighting a war. This means that there will never truly be a 'lights out' moment in Afghanistan, but continued diplomatic involvement seeking to foster a fragile, new government.
Richard in Whitleyville, Tennessee writes:
The problem is in the wording of your question. What is the measure of "success?" I don't have any idea why we are in Afghanistan beyond trying to catch the planners of 9/11. That sure has not been very successful.
Frank in Austin, Texas writes:
No, I do not believe we can ever have a clear victory in Iraq or Afghanistan. There is a never-ending supply of Jihadists who are poor, uneducated and totally brainwashed by their so-called spiritual leaders. And, it is unlikely that we will ever be able to eradicate extreme fundamentalism as long as we support Israel at the expense of the Palestinians and keep a military presence in Muslim nations.
Jane in Minnesota writes:
I don't think so and I've felt this way since it started. No other country has been able to tame it. There's illegal drug money to be made there. It's like Mexico – they can't tame the drug lords there either.
Micah writes:
When, after nine years of war, nobody can define what a "win" would look like in Afghanistan then it is time to get out.