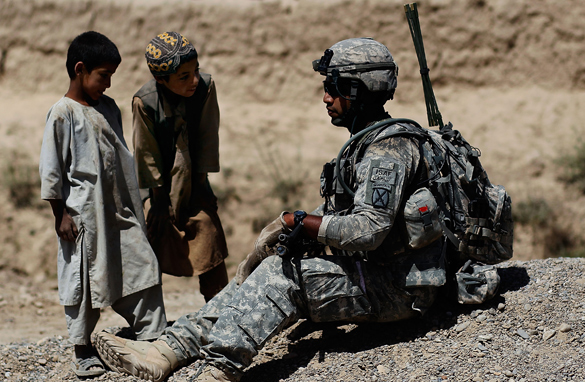 (PHOTO CREDIT: GETTY IMAGES)
FROM CNN's Jack Cafferty:
The spotlight is back on the war in Afghanistan. Big time.
In the wake of the very public dismissal of General Stanley McChrystal and renewed talk of a withdrawal date - there's lots of debate over what is now this country's longest war.
And it isn't pretty.
As the U.S. continues to escalate troop levels, top officials are warning of a long road ahead.
CIA Director Leon Panetta says the Afghanistan war has "serious problems." He says progress is being made, but the fight is harder and slower than anyone anticipated. Panetta cites problems with the government, corruption, drug trafficking and the Taliban insurgency.
Speaking of corruption, The Wall Street Journal reports American investigators believe top Afghan officials have been flying more than $3 billion in U.S. aid and drug money to financial havens for 3 years.
That would be our tax dollars.
The Journal says President Hamid Karzai's brother, long suspected of being deeply involved in Afghanistan's drug trade, is one of the officials in question. What are we doing?
President Obama has said U.S. troops would start pulling out in July 2011... although he seems to be hedging on that lately.
Former Secretary of State Henry Kissinger is warning the U.S. exit strategy "provides a mechanism for failure." He says the public needs to be prepared for a long struggle.
Here's my question to you: Is success possible in Afghanistan?
Interested to know which ones made it on air?