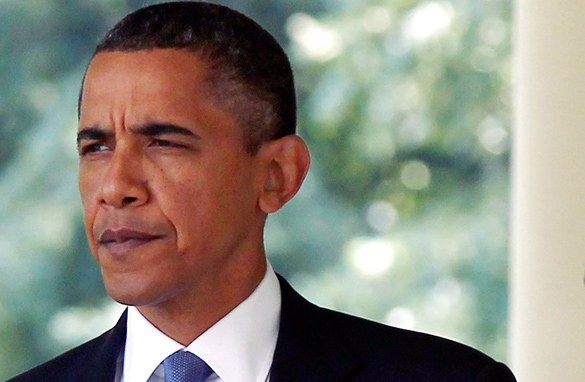 (PHOTO CREDIT: GETTY IMAGES)
FROM CNN's Jack Cafferty:
It's only 17 months into Barack Obama's presidency... and the American people seem to be losing faith in him.
A new Wall Street Journal/NBC News poll shows Americans are more pessimistic about the state of the country... and less confident in the president's leadership than at any time since Mr. Obama took office.
The poll finds 62 percent of Americans say the country is on the wrong track - that's the highest level since before the 2008 election... and only one-third think the economy will improve in the next year... the lowest in Mr. Obama's presidency and a seven-point drop from one month ago.
It gets worse - support for the president is not only declining among independents... it's also dropping among his base. And, the president has lost support among Latinos, small-town residents, white women and seniors.
What's more - the poll shows a big jump in people who say they don't relate to President Obama... less than half say he has strong leadership qualities... and only 40 percent rate him positively on his "ability to handle a crisis."
Meanwhile, Roger Simon of Politico wonders if President Obama has run out of luck. Simon writes the President "used to be one lucky guy," describing his meteoric rise to power from the Illinois statehouse to the White House in 12 years.
He also points to the president's ability to escape several issues - like the preacher Jeremiah Wright - that might have derailed another candidate.
But now with the unstable economy, high unemployment, the Gulf oil spill, the "runaway general" Stanley McChrsytal and international threats like Iran and North Korea, Mr. Obama's luck is mostly bad.
Here's my question to you: How much confidence do you have in President Obama?
Interested to know which ones made it on air?
John writes:
The president rode into office on a backlash vote against the Bush admin., not on the strength of his qualifications. When the predictable crises come in the unpredictable forms, that inexperience shows. However, an inexperienced president can thrive if surrounded by capable assistants who keep in touch with the "real people". Unfortunately I believe this administration is both inexperienced and out of touch.
Greg in Bremerton, Washington writes:
My confidence in Pres. Obama and his staff (not to mention the entire Congress!) is shrinking. In fact, my confidence is so lacking right now that I actually fear for the future of America… We're still in Iraq, we're still in Afghanistan, we still have unemployment issues, our borders are not secure, our economy is a mess and our infrastructure is going to be the next nightmare.
Rosemary writes:
I have a lot of confidence in the president. I think he is unfairly being over-scrutinized because he is the first black president and he is constantly being measured against how a white president would do it. It does not matter that the man is intelligent. Pundits, journalists, news anchors want him to lose his temper and start blathering like an idiot just so they can have what they feel is a hot story to tell.
Melissa writes:
A lot. I think he's done very well with what he's been given, especially since there are certain elements in this country who are doing everything they can to make sure the president fails, and the whole country falls with him.
Carl writes:
Jack, Pres. Obama is about the best at speeches I have ever heard. Having said that, I have no confidence in him at all. He is just your typical politician in my eyes. A very good speaker, but hopefully a one-term president.
Jane writes:
Not as much as I had when I voted for him, but the thought of a Vice President Palin still gives me the willies, Jack! We've gone from a president who should have thought more before he acted to one who at times thinks too much before acting.